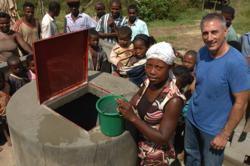 To build a school and bring clean water to 25,000 people in Madagascar all in one year is truly amazing.
Anaheim, CA (PRWEB) March 09, 2012
Providing an opportunity to make a wish really count, Aura Cacia, along with the Frontier family of branded products, is handing out 5,000 wooden coins valued at $1 each at Natural Products Expo in Anaheim. Aura Cacia is encouraging Expo West attendees to stop by their booth location (#3633) and drop a wooden dollar token in the project well of their choice. In conjunction with the school that is currently being built with money from Aura Cacia's 1% Fund, Expo attendees will get to designate whether their dollar supports the hiring of teachers, furnishings, or textbooks at the new school. At the end of the trade show, Aura Cacia's parent company, Frontier Natural Products Co-op, will make a donation in the amount of dollar tokens collected to help continue supporting the school being built.
"To build a school and bring clean water to 25,000 people in Madagascar all in one year is truly amazing," explains Steve Shriver, VP of Communications for Frontier Natural Products Co-op. Aura Cacia employees will be wearing "Dig It" t-shirts and traversing the exhibit halls to pass out the wooden dollar tokens. Video clips of the school projects from Madagascar, as well as the products sourced from there will be on display at the Aura Cacia booth. "To have our customers join us in the great work we do around the world, that's what being a coop is all about!" Shriver adds. The fun doesn't end at the project wishing wells, though.
Mixology is the theme at the Aura Cacia booth (#3633) where you'll be able to mix essential oil products. Aromatherapy experts Tim Blakley and Charlynn Avery will be mixing mini misters for guests highlighting three new essential oils that launch on Friday – Helichrysum, Lemon Balm and Tasmanian Lavender. Also, being showcased are five new Aura Cacia Essential Solutions Mists. Each mist is designed for specific aromatherapeutic benefits, whether you're searching for a natural perk up or a chill-out moment. Aura Cacia will also be sharing information on the pre-school that is being built in Madagascar funded by the Aura Cacia 1% organic essential oil fund.
Enjoy mixed music from DJ Drez Friday and Saturday afternoon from 2:00 – 6:00. On Friday morning, March 9, at 7 am, join Aura Cacia for a yoga session led by instructor Marti Bradley. Charlynn Avery will be leading the class through an aroma meditation at the end. This free yoga class is structured for both beginner- and intermediate-level yogis. It will be held in the Avalon Ballroom at the Hilton Hotel, next to the Anaheim Convention Center.
Founded in 1982 and based in Urbana, Iowa, Aura Cacia provides consumers with natural and organic personal-care products made with 100% pure essential oils. Aura Cacia fulfills consumers' desires for comfort, health and safety in personal care products by combining the benefits of aromatherapy with practical products that can be used every day by the whole family. Aura Cacia is a registered brand of Frontier Natural Products Co-op™, based in Norway, Iowa. To learn more, visit http://www.auracacia.com.