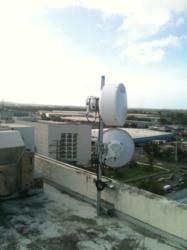 Microwave Technology allows us to deploy services faster than copper or fiber, we can install a customer in hours if necessary!
San Juan, PR (PRWEB) March 08, 2012
Aeronet, a Broadband Service provider, introduced to the local market the first 100 Mbps Broadband Service. For the first time, the Island's business community can access the Internet at this speed.
"In Puerto Rico, 74% of Business uses Broadband Internet as an operational necessity. We offer those businesses a Commercial Class Broadband service tied with Aeronet' s top notch service with competitive pricing", expressed Gino Villarini, President of Aeronet. "We are the first in Puerto Rico to offer 100 Mbps Broadband Internet service and possibly, the first in the United States to offer such services using MTTC Technology".
Aeronet provides this service using the latest Microwave Technology from several manufacturers including European SAF Tehnika, which recently launched the "FreeMile" last mile Microwave System. Aeronet MTTC (Microwave to the Customer) Technology allows them to leverage the advantages of Metro Ethernet Microwave Backhaul to provide a scalable, reliable and rapid deployment product.
"Microwave Technology allows Aeronet to deploy services faster than copper or fiber. If needed, we can install a customer in hours! Rapid deployment and quality of service are some of our pillar advantages as a Broadband Provider", said Villarini. "MTTC Technology and Metro Ethernet Microwave Backbone allow us to bypass the local Telco's thus providing a complete solution to our customers. Aeronet does not rely on third parties. We own the whole network".
In 2011, the Company completed a $1.5 million investment to upgrade its network with plans for more capital investments for year 2012. Currently, Broadband Access, Dedicated Internet Access, and Metro Ethernet are among the realm of services Aeronet offers. Villarini added, "We continue to expand our infrastructure to satisfy our customers' needs and be able to provide the future wave of data needed for their growth".
"The possibility of providing tailored solutions to our customers remains our most important asset that has allow us to maintain a 15 to 20% yearly growth in the pasts 5 years", concluded Villarini.
For more information and details please contact us @ 787.273.4143, email info(at)aeronetpr(dot)com, visit our website or Facebook page.
Aeronet is a private Company established in 2001. Provides Data and Internet Access services to the Business segment of Puerto Rico, including Vieques, Culebra and the US Virgin Islands. Is a member or the Wireless Internet Service Providers Association, The PR Bridge Initiative and the Puerto Rico Broadband Task Force.