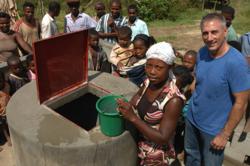 To build a school and bring clean water to 25,000 people in Madagascar all in one year is truly amazing. And when our customers join us by supporting these projects, that's what being a co-op is all about.
Anaheim, CA (PRWEB) March 09, 2012
Providing an opportunity to make a wish really count, Frontier Natural Products and Simply Organic are handing out 5,000 wooden coins valued at $1 each at Natural Products Expo in Anaheim. Expo West attendees are encouraged to stop by their booth location (#3532) and drop a wooden dollar token in the project well of their choice. In conjunction with the school that is currently being built with money from Aura Cacia's 1% Fund (Frontier's essential oil business), Expo attendees will get to designate whether their dollar supports the hiring of teachers, furnishings, or textbooks at the new school. At the end of the trade show, Frontier Natural Products Co-op, will make a donation in the amount of dollar tokens collected to help continue supporting the school being built.
"To build a school and bring clean water to 25,000 people in Madagascar all in one year is truly amazing," explains Steve Shriver, VP of Communications for Frontier Natural Products Co-op. Frontier employees will be wearing "Dig It" t-shirts and traversing the exhibit halls to pass out the wooden dollar tokens. Video clips of the water well projects from Madagascar, as well as the products sourced from there will be on display at the company's booth. "To have our customers join us in the great work we do around the world, that's what being a coop is all about!" Shriver adds. The fun doesn't end at the project wishing wells, though.
At the Frontier and Simply Organic spice and tea booth (#3532), new bulk herbs, spices and teas will be available for sampling. Frontier will feature blends of Ras El Hanout, Tandoori Masala, and Vindaloo Curry, all organic seasoning mixes. Forever Fruit Herbal, Luscious Licorice Herbal, and Relaxing Herbal organic tea blends will be featured, as well as several new organic herbs including Holy Basil (Tulsi) Leaf, Hawthorne Berries Powder and Milk Thistle Seed Powder.
Simply Organic will feature new Cinnamon Sticks — Grade AA, which indicates a double swirl stick with high flavor impact and spice potency. Also on display will be new whole Madagascar Vanilla Beans, which are hand-selected beans with the rich, enticing flavor characteristic of bourbon vanilla, the mostly highly prized vanilla in the world. Also available from Simply Organic are two new extensions to the Simply Organic Grilling Seasons line — Orange Ginger and Citrus 'n Herb — providing more convenient shake-on organic seasonings to flavor grilled foods.
Simply Organic, an all-organic brand from Frontier Natural Products Co-op, offers an extensive and growing selection of certified organic spices, seasonings, baking flavors and mixes while supporting organic agriculture around the globe. By providing the best available organic seasonings and donating one percent of sales to organic agriculture and education, Simply Organic genuinely offers "Simply Healthy Living. Simply Great Taste." Find out more at http://www.simplyorganic.com. Twitter us at @SimplyOrgFoods.
Founded in 1976, Frontier Natural Products Co-op offers a full line of natural and organic products, including culinary herbs, spices and baking flavors; bulk herbs and spices; and natural and organic aromatherapy products. Frontier's goal is to provide consumers with the highest-quality organic and natural products while supporting and promoting social and environmental responsibility. and http://www.frontiercoop.com.