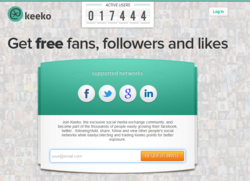 Cebu, CEB (PRWEB) March 12, 2012
Having launched its free social media sharing tool called Keeko in late 2011, Clicking Labs, the leading provider of Web 2.0 business applications would like to announce its latest status updates about their growing network. Keeko, an exclusive social media exchange platform that helps businesses, individuals and organizations grow their social networks through a unique system of free Facebook Likes, Twitter Followers, Web Traffic and other sharing properties.
"We're very grateful that our member base has continued to grow despite some changes with our web platform. As of today, we've surpassed 15,000 users daily on our community who are continuously participating in our exclusive community. We see how well their social followings have grown from the first time they've joined us, it makes us happy to see that they enjoy what we do for them", says Business Development – Managing Director, Jonathan Kennedy.
"And because we see that our members are enjoying our platform so well, we decided that we want to share the news of a new internal dashboard is in the making. As of now, it's still a working project that we will reveal as soon as it can surpass our standards for Keeko" adds partner and Managing Director, JP Bisson.
Keeko is an exclusive community that allows individuals, companies and small businesses to grow your social networks. The process is simple and easy to use, that they can get free fans, followers and likes in an instant. Keeko works on a point system in order to regulate the credits necessary to grow the social following. Keeko currently offers the following social networks such Facebook, Facebook Share, Twitter, Retweet, Google Plus, and LinkedIn.
To learn more about Keeko, visit their website at http://www.keeko.com to start getting more fans, followers and likes.
About
Keeko is a wholly owned company by Clicking Labs. With dedication and perseverance they were able to bring together a diverse team of web professionals to provide internet businesses with creative web marketing strategies. Founded in Ottawa, Canada, the company has expanded operations to Cebu, Philippines in early 2011 to better serve its clients.