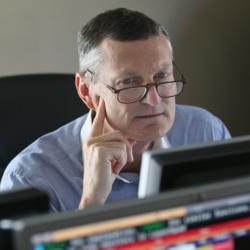 Valuations are attractive and have room to expand. We think the best way for valuations to rise would be renewed investor confidence, but there continues to be considerable uncertainty as investor trust has been wounded.
Salt Lake City, UT (PRWEB) March 09, 2012
Wasatch Funds today announced that Wasatch Large Cap Value Fund(FMIEX) has received a Lipper Award for its 10 year performance. The 2012 Lipper Fund Award designates the Fund as #1 in the Large Cap Value Category based on consistent (risk-adjusted) return for the ten years ended 12/31/11 (out of 239 funds). Wasatch also recently announced that the Large Cap Value Fund is one of three Wasatch funds to launch a companion Institutional Share class, with lower total expense ratios, for Retirement Plans, Financial Advisors, and Institutions*. The other funds are Wasatch Core Growth (WGROX) and Wasatch Small Cap Value (WMCVX).
Veteran value manager Ralph Shive took a few minutes to share his investment outlook and strategy.
Q. What is your outlook for 2012?
A. The US Financial crisis has not been resolved as we enter the fourth year of a recovery that has been driven with modest success by the Federal Reserve's zero interest rate policy. Corporate earnings have been strong and we think stock valuations today are reasonable. Normally, we'd expect an environment like this to lead to table pounding exuberance, but it has not. Valuations are attractive and have room to expand. We think the best way for valuations to rise would be renewed investor confidence, but there continues to be considerable uncertainty as investor trust has been wounded. But there are inklings of improved confidence in the fourth quarter and into 2012.
We haven't fixed the root causes of the financial crisis and have made little progress on reform. The recent collapse of MF Global illustrates that we still don't have a handle on this. Until there is confidence that needed reform is progressing, investors will continue to lack trust. Yet, while we remain cautious and expect less than robust markets, we feel low valuations and strong corporate cash flow provide potential opportunities for us to make money in our portfolio.
Q. You have been concerned for some time about the US financial crisis and debt levels. How have you managed the Fund to reflect your concerns?
We were early believers that deleveraging had to happen. The debt bubble that had been built over 20 years hit the wall in the financial crisis of 2008 and we are still dealing with this. Debt at the state and local government level is also an issue. We believe the process of deleveraging portends slow growth and weak disposable personal income. Our debt problem is compounded by a demographic problem as we will soon have to deal with all unfunded liabilities as the Baby Boomers begin to retire and hit the "pay me" button.
Unfortunately, the needed austerity around the world is progressing and is likely to take the form of a "J Curve" meaning we will take steps backward before we experience positive improvement. In this environment, we remain underweight financials. Also, as consumers become more frugal, we expect them to cut discretionary spending so we have been underweight consumer discretionary companies. We think consumers will continue to spend on energy, drugs, healthcare and personal technology -- tablets and other mobile devices individuals increasingly need to create productivity.
Q. You've always had a contrarian bent. Where are you going to avoid the crowd?
A. Investor expectations for the defense industry seem bearish to us. As we consider the likelihood of discretionary versus non-discretionary spending, we think military spending will continue to be a high priority. Defense companies sell a lot internationally and benefit from increased demand for intelligence. We also remain overweight on energy as it is a global need. We expect emerging market energy demand to continue to grow especially in transportation and manufacturing sectors. We like pipelines, drillers, exploration, offshore drilling, and domestic gas.
Q. Yield is a key part of your portfolio strategy. Why?
A. We are still enamored with companies that get cash to shareholders through dividends. Excellent cash generation by US corporations has fueled many companies to deliver significant dividend increases to their shareholders. We are finding steady dividend payers in the technology, industrial, energy and healthcare industries. We like a mix of yield – some higher payers, some medium (but increasing) and some lower yielding growth names – to generate a gross yield that matches the Russell 1000 value.
We think dividends provide a discipline that helps drive management thinking and philosophy. In a slow growth environment, more companies are choosing to distribute cash to shareholders in lieu of capital expansion due to weak demand. With positive corporate earnings and cash flow and modest price appreciation, dividend yields have become more competitive with bonds. Equity investors seem to be buying more dividend oriented stocks.
Q. It has been tough for some value managers, your fund included, to outperform growth companies. What was the source of the underperformance?
A. The biggest part of our underperformance came from an underweight in consumer discretionary. We believed that as consumers reduced debt, they would spend less. But federal stimulus programs helped some of the consumer companies. We also believed that capital spending by corporations would help technology companies and we overweight the sector. However, we did not own IBM or Apple, two stocks that led technology results. We are confident in our long-term value approach and risk discipline—we will not put more than 2% of client capital at risk in an individual name—and believe our recent results may only be the "intermission" of a longer play/movie.
Q: You have one of the best Large Cap Value track records over the past 10 years, yet the last three year returns of your fund have trailed. Is there anything you have changed in your process?
A: No, we think that our Top-Down Bottom-Up investment approach has worked over multiple cycles. We identify broad macro themes that we believe are longer term drivers of sector attractiveness, and then try to find what we believe to be the best value stocks to populate the sectors and the weighting that we set. The last 3 years have been frustrating in that many of the themes have been right, but very slow to play out in the markets. But we have not changed our process; we don't throw in the towel on our themes if we still believe in them. We were suspicious of the housing bubble developing in the mid 2000's and followed that theme successfully by staying very light on anything related to home builders or mortgage financing. Conversely, we didn't buy internet stocks in 1999, for example, even though many piled into that sector very late and unfortunately.
About Wasatch Advisors®
Wasatch Advisors is the investment manager to Wasatch Funds®, a family of no-load mutual funds, as well as separately managed institutional and individual portfolios. Wasatch Advisors pursues a disciplined approach to investing, focused on bottom-up, fundamental analysis to develop a deep understanding of the investment potential of individual companies. The portfolio managers employ a uniquely collaborative process to leverage the knowledge and skill of the entire Wasatch Advisors research team in making investment decisions. Wasatch Advisors is an employee-owned investment adviser founded in 1975 and headquartered in Salt Lake City, Utah. Total assets under management at 1/31/12 were $10.9 Billion.
Contact Information:
Jody Lowe: 414.322.9311 / jodylowe(at)att(dot)net
Gene Podsiadlo: 801.983.4169 / gpodsiadlo(at)wasatchadvisors(dot)com
_____________________________________________________________
*The Institutional Share classes of the three Wasatch Funds are available to all investors at an initial minimum investment of $500,000. The prospectus for the new share classes states that Investors and/or Registered Investment Advisors (RIAs) and Broker-Dealers may aggregate clients to meet the minimum for the Institutional class.
An investor should consider investment objectives, risks, charges and expenses carefully before investing. To obtain a prospectus, containing this and other information, visit http://www.wasatchfunds.com or call 800.551.1700. Please read it carefully before investing.
©2012 Wasatch Funds, All rights reserved. Wasatch Funds are distributed by ALPS Distributors, Inc. (ADI) ADI is not affiliated with Wasatch Advisors. Gene Podsiadlo is a registered representative of ADI.
WAS002670 3/31/12