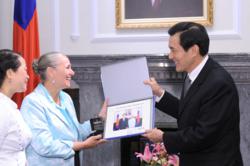 Los Angeles, CA (PRWEB) March 08, 2012
Taipei, Taiwan. In a meeting with Taiwan President Ma Ying-jeou March 6, Youth for Human Rights International Founder and President, Dr. Mary Shuttleworth and representatives from Youth for Human Rights Taiwan presented the President, his senior advisor, the Deputy Minister of Education, and Vice Minister of Interior with human rights materials in Chinese for use in furthering human rights education in the country. The materials, including booklets and educational videos, provide students of all ages a basic understanding of the United Nations Universal Declaration of Human Rights.
The Taiwan chapter of Youth for Human Rights International has reached some 150,000 students through more than 700 human rights workshops to schools throughout the country. Dr. Shuttleworth acknowledged the Church of Scientology Taiwan for helping translate the materials into Chinese to facilitate this process, and donating copies of the materials for free distribution to schools, nongovernmental and civil society organizations.
To acknowledge the importance of this issue, President Ma announced his government will publish the country's first human rights report this year, compiled under the criteria laid out in the International Covenant of Civil and Political Rights and the International Covenant on Economic, Social and Cultural Rights, both of which were adopted as domestic law by the Taiwan Legislature in 2009.
Dr. Shuttleworth, spearheading the World Educational Tour 2012, traveled to Taiwan from her home in Los Angeles as part of the 9th annual Youth for Human Rights World Educational Tour, which began in Mexico and continued on to Liberia, Togo, Cameroon and Ethiopia. Since 2004, she and her team have traveled more than 250,000 miles to promote human rights education to officials, educators and nongovernmental organizations.
On adopting the Universal Declaration of Human Rights in 1948, The United Nations General Assembly called for the document to "be disseminated, displayed, read and expounded principally in schools and other educational institutions, without distinction based on the political status of countries or territories."
Working in collaboration with like-minded organizations and groups, the purpose of Youth for Human Rights International is to teach youth about human rights, specifically the United Nations Universal Declaration of Human Rights, and inspire them to become valuable advocates for tolerance and peace. For more information, visit http://www.YouthForHumanRights.org .
Press Contact:
Ms. Tracie Morrow, Youth for Human Rights International
Email: publicaffairs(at)youthforhumanrights(dot)org
Tel: (323) 663-5799