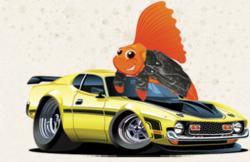 Ever forget to change your clock forward or back, and show up either incredibly late or incredibly early for something—or miss it altogether?
San Diego, CA (PRWEB) March 09, 2012
RoadFish.com men's lifestyle and finance magazine today prompted its readers to set an alarm or some type of alert this weekend to remind them to turn their clocks one hour forward to keep up with Daylight Savings Time this Sunday, March 11th. RoadFish.com also suggests going to bed one hour earlier on Saturday night or taking a mid-afternoon nap on Sunday to catch up on the hour that we will lose by turning the clocks forward. Forgetting to change the clocks and going about the day one hour behind is never fun and can be a costly or embarrassing slip up.
This year's Daylight Savings Time comes earlier than in years past. Ruth Carr of the Moberly Monitor reported on Thursday that springing forward used to fall on the first Sunday in April, and falling back was always the last Sunday in October until a couple of years ago when Congress bumped both dates in order to increase the daylight saving time in our yearly calendar. 2012 Daylight Savings Time will run from March 11th all the way up til November 4th. 75 countries and territories around the world will have at least one location that will participate in turning their clocks forward. 164 countries will not be observing the time zone, along with residents of the states of Arizona and Hawaii, and Puerto Rico and the U.S. Virgin Islands, none of which participate in Daylight Savings Time.
Ileana Llorens of The Huffington Post reported that though inventor and political great Benjamin Franklin has been credited with parenting the idea of Daylight Savings Time, it wasn't until the first World War that his concept came into practice. Both Great Britain and Germany adopted Franklin's concept in order to conserve energy and maximize the amount of sunlight in a given day. The U.S. did not completely take up the same practice of participating in Daylight Savings Time until after WW II. Since the creation of the Uniform Time Act in 1966, the spring forward date for Daylight Savings Time have changed from the last Sunday in April, to the first Sunday in April, to finally what it is today: the second Sunday in March. Likewise, the falling back date, originally the last Sunday in October, was modified several times until 2006, when Congress adjusted the date to the first Sunday in November.
RoadFish.com's Senior staff editor is quoted as saying, "Ever forget to change your clock forward or back, and show up either incredibly late or incredibly early for something—or miss it altogether? I'm sure we've all been there. Hopefully with the ever-expanding and improving technology, there will be enough phones, iPods, computers and other appliances in our homes this year that will reset their own time, and will automatically set the alarms to the proper 'spring ahead' time on Sunday."
Todd Ackerman reported for the Houston Chronicle in 2010 of a conversation had with Shyam Subramanian, a pulmonologist at Baylor College of Medicine and Medical Director of the Ben Taub Hospital's sleep lab in Houston. Dr. Subramanian did research on the effects of Daylight Savings Time on sleep patterns, and concluded that most Westerners are usually already sleep deprived when they lose that extra hour in the spring, and therefore are likely to underestimate the affects that the time change has on them. Dr. Subramanian stated, "Losing an hour of sleep contributes to sleep debt. If you don't make up the debt, it manifests in waking up tired, needing a lot of caffeine to get going, nodding off during the day." He also addressed the increased incidents of accidents that are had just after we spring ahead. Subramanian told the Chronicle, "There is a higher incidence of workplace and occupational accidents, particularly in industries like mining and transportation, for about two to three weeks right around this time."
RoadFish.com emphasizes the importance of planning ahead to allow your body to receive enough rest. RoadFish.com's Senior staff writer suggested, "Pretend you're a kid this weekend: make yourself a bedtime that you have to stick to on Saturday or, if you've already got plans to be out and about that evening, carve some time out of Sunday and put yourself to bed for an hour nap. Your body will thank you on Monday! And take advantage of what Daylight Savings Time has to offer. Just the same way you wouldn't pass up a free credit score report if you had the opportunity, don't pass up the extra hours of sunlight in the upcoming months."
And don't get frustrated if your body isn't instantly in sync with the new time. Dr. Subramanian stated to the Chronicle in the above-mentioned article, "[Another] issue is light. The body clock that tells us when to go to sleep and when to wake up is influenced by light and the hormone melatonin. When melatonin levels go up, the body clock tells the brain to go to sleep. When bright light shines, melatonin production shuts down and the brain tells the body to wake up and be alert. At daylight saving time, it takes a little while for the body clock to readjust melatonin activity."
Daylight Savings time will officially begin at 2 a.m. this upcoming Sunday, March 11th.
About Roadfish
RoadFish.com is an online men's lifestyle and finance magazine targeted toward men in their 30s and 40s that have already attained a moderate level of success in life, and are striving toward more. It goes over current events of interest to this group, such things as exciting adventures, consumer interests, luxury items, and dating tips, as well as ways to make more and save more money. It is a publication owned by Purpose Inc.
###