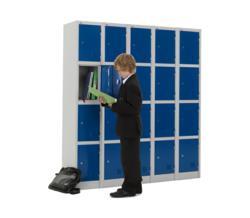 (PRWEB) March 12, 2012
The deadline for schools to spend the remainder of their 2011/2012 budget is fast approaching. In response, storage equipment specialist Action Storage has announced details of how its innovative and cost effective locker range can enable schools to stretch their budget further and gain durable, secure storage facilities for their pupils.
Action Storage's eXtreme® Plastic Locker offers unique space saving and security benefits for schools. Made from hard wearing polyethylene, eXtreme® Plastic Lockers are rust proof and weather resistant, enabling them to be stacked next to swimming pools or outdoors under cover, freeing up valuable corridor space. Made from hard wearing plastic, eXtreme® Plastic Lockers can be spray cleaned with a high pressure hose and left to dry, making them an exceptionally hygienic option.
With the security of pupil's possessions a top priority, eXtreme® Plastic Lockers are far more secure and vandal resistant than conventional lockers. The hinges are able to withstand up to 3200 N (327kg) of pressure while the doors can resist break in attempts with a clawhammer.
For schools that need to stretch their budget as far as possible, Action Storage also supplies Atlas® Steel Lockers. Available from stock for as little as £59 (+VAT), these lockers are an economic and practical option. Made from robust steel and with reinforced doors, Atlas® Steel Lockers offer durable storage that's able to withstand the hustle and bustle of school life. Atlas® Steel Lockers are also available in a variety of door sizes, lock options and have an antibacterial powder coated finish.
Along with eXtreme® Plastic Lockers and Atlas® Steel Lockers, Action Storage supplies a extensive array of equipment for schools, including cycle shelters, litter bins and laptop charging trolleys. This wide range reflects Action Storage's long standing relationship with the education sector, having supplied and installed storage equipment in over 800 schools, colleges and universities over the last 25 years. Action Storage also proactively monitors market prices to ensure it is offering the most cost effective options for schools in this tough economic climate.
Details of Action Storage's complete product range for schools and the 4000 other products in its warehouse can be found on its website, where you can order its 220 page catalogue free of charge. Any orders placed online receive a 5% discount and schools can place orders on credit with a valid purchase order.
About Action Storage
For 25 years Action Storage has supplied shelving, racking and other storage equipment using the latest materials and innovative designs. Its clients include supermarkets, warehouses, government offices, schools and anyone else requiring high quality storage systems throughout the UK and mainland Europe.
Action Storage prides itself on its high service levels, and provides a free, unique advice line for discussing your requirements and assessing the perfect storage solution.
For service enquiries contact:
Website: http://www.action-storage.co.uk
Email: sales(at)action-storage(dot)co(dot)uk
Tel UK: 0800 592215
Outside UK: +44 (0)1908 525700
Fax: +44 (0)1908 321650
Action Storage
6 Fitzhamon Court
Wolverton Mill South
Milton Keynes
Bucks
MK12 6LB