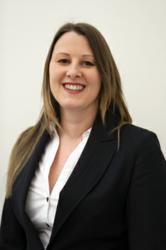 Haag-Streit has an unequalled reputation within the optical industry and I am excited to be able to offer a portfolio of gold-standard products
Harlow, Essex (PRWEB UK) 12 March 2012
Haag-Streit UK, the leading manufacturer and distributor of gold-standard optometry and ophthalmic equipment, is pleased to announce the appointment of Angela Masson in the role of Area Sales Manager, to join the 46-strong team. Based remotely, Angela will be responsible for sales in both Scotland and Ireland.
Taking over from retiring Regional Sales Manager, Gordon Medlow, Angela brings with her a wealth of experience, having worked in the optical industry for twelve years. Angela previously held a role at Capitol Eyewear, a distributor of ophthalmic frames, where she worked as an Area Sales Manager covering Scotland, Ireland and North England.
Grahame Wood, National Sales Manager, Haag-Streit UK said, "We are delighted to welcome Angela to the Haag-Streit UK Sales Team. With vast experience in the optical industry and an excellent track record of managing the sales process, she was the perfect candidate for the Area Sales Manager role."
During her time at Capitol Eyewear, Angela became one of the organisation's most successful Sales Managers, building a large customer base and increasing revenue year-on-year.
Speaking about her appointment, Angela said, "Having covered both Scotland and Ireland in my previous role I am looking forward to building on my existing relationships, as well as developing new ones. Haag-Streit has an unequalled reputation within the optical industry and I am excited to be able to offer a portfolio of gold-standard products. I have learnt a great deal about Haag-Streit products over the years as previous clients used the equipment. This is a fantastic opportunity to put this knowledge into practise and I am looking forward to the challenge."
For further information contact Haag-Streit UK on (01279) 414969.