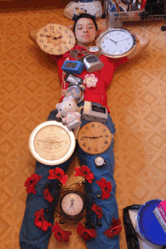 I'm hoping that by aiming for the stars I will land somewhere close to them at least!
London (PRWEB UK) 13 March 2012
With UK youth unemployment at a 23-year high, Jason Ting believes that rather than complaining about the lack of jobs available that students should think out-of-the-box to try and beat the current economic climate.
He has set up a website, Minutes For Sale where he aims to sell every moment of time, one minute at a time. Companies can purchase one minute of time from as little as £10, with prices set to rise after every 60 minutes sold.
Once a company purchases a specific minute of time, they own it forever and their website will appear in full on the home page of Minutes for Sale ( http://minutesforsale.com ) at that time, every single day. They will also feature on a timetable showing every minute available, and those already purchased. Those already purchased will link to the customer's homepage as well as display an image or logo of their choice.
It is unique and has never been tried before, but Jason Ting, 20, feels that this will be the reason for its success. In just a couple of days, Jason Ting from London has already had a few companies purchasing minutes from his site.