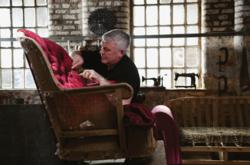 Prestige Re-upholstery brings the very best of fabric design together in one place.
(PRWEB UK) 12 March 2012
The nationwide launch follows recent success of the brand's exposure in select areas of the UK. The trial was well received, with many customers commenting on the quality and choice of fabrics. Chris Plumb, instigator of the new brand launch, explains the need for Prestige Re-upholstery in today's market:
"Today our homes and furnishings are becoming works of art in themselves, reflecting our tastes and personality. The exquisite range of fabrics that Prestige has to offer aims to bring old furniture out of the shadows and turn it into something beautiful that can be showcased proudly and fondly within the home."
As the name suggests, Prestige Re-upholstery offers the finest in British fabric design. The range includes a collection of fabric and leather textiles, sourced from top quality suppliers. Fabric collections from Wilman Interiors, Linwood, Jim Dickens, Futura and more famous names have been carefully selected to make up the brand's quality range.
Alongside its celebration of fine design, Prestige Re-upholstery retains a nostalgic image, with their focus on traditional British craftsmanship. In their recent launch campaign, the company have sought to highlight the authenticity of their re-upholsterers.
Prestige Re-upholstery comes as part of the Plumbs family, a re-upholstery and loose covers specialist established for over 50 years. Chris Plumb explains more about the relationship between the brands:
"With Prestige Re-Upholstery we are keen to branch out from the traditional Plumbs perception. Despite offering a similar in-home service, the two brands are very different in their look and product." He continues, "The key to Prestige Re-upholstery are the names and quality that we have brought to the brand. With beautiful fabrics coming from the likes of J Brown, Linwood and Swaffer, Prestige Re-upholstery brings the very best of fabric design together in one place."
A new avenue distinguishing Prestige Re-upholstery from its Plumbs counterpart is the availability of leather for re-upholstery. Offering a substantial collection of leathers, sourced from as far as Italy, Prestige Re-upholstery show that they can cater for many tastes and customer needs.
Prestige Re-upholstery can also offer traditional loose covers and curtains depending on your requirements. The service will be available to the UK in the coming weeks.