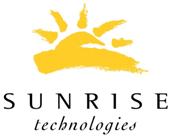 Winston-Salem, NC (PRWEB) March 15, 2012
Sunrise Technologies, a leading Microsoft Dynamics AX partner, will be highlighting their customer-focused ideology and industry expertise as an exhibitor and Bronze sponsor of Microsoft Convergence in Houston, Texas.
Sunrise continues to thrive in 2012 with their customer-focused ideology of successful implementations, attentive customer support, and conscientious customer relationships. Sunrise takes pride in their exceptional implementation consultants; each consultant is Microsoft Dynamics AX certified and has specialized skills to refine the implementation process. The Sunrise support team is diligent and responsive to attain a fast and complete resolution so that customers are able to get back to business. Customer satisfaction is how Sunrise measures success, and customer relationships are a priority long after implementation is complete. Sunrise is a supporter of the Microsoft Dynamics AX User's Group (AXUG), which provides the benefits of networking and exchanging information with other Microsoft Dynamics AX users, and encourages their customers to be involved as well. Focusing on the customer experience is what makes Sunrise stand out as a Microsoft Dynamics AX partner.
Industry focus is fundamental when choosing an ERP solution. Sunrise Technologies focuses exclusively on the Microsoft Dynamics AX ERP solution and incorporates our manufacturing, distribution, and retail experience with technical knowledge of the software. With a strong customer base in the consumer packaged goods (CPG) industries, Sunrise has an advanced understanding of the business needs of CPG companies and works with each customer to help them meet their business goals. As a result of customer input and functionality requests, Sunrise developed and provides three Microsoft Dynamics AX industry solutions: an Apparel and Footwear Template that is Certified for Microsoft Dynamics AX 2012 (CfMD), an advanced Warehouse Management Solution, and an interface to the Vertex O-Series tax software. Each of the Sunrise industry solutions enhances the out-of-the-box functionality of Microsoft Dynamics AX.
About Sunrise Technologies
Sunrise Technologies is a Microsoft Partner with the Gold ERP Competency. Sunrise specializes in the Microsoft Dynamics AX ERP solution for manufacturing, distribution, and retail, and is vertically focused on apparel, footwear, furniture, consumer goods, and industrial equipment. Sunrise Technologies is a global company with its corporate headquarters in the Piedmont Triad Research Park of Winston-Salem, North Carolina. Sunrise has regional offices in Dallas, Texas, Los Angeles, California, and Xi'an, China, as well as a Virtual Office at http://www.sunrise-ax.com. To learn more about Sunrise Technologies, please visit our Web site at http://www.sunriseconsult.com.