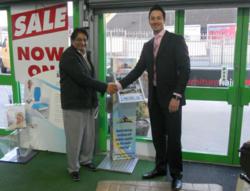 We did not anticipate the interest from other businesses wanting to earn the extra income that this partnership scheme creates, so it made sense to invite them all to us in order to set them up as quickly as possible.
(PRWEB UK) 10 March 2012
Rotherham based Gala Tent are inviting businesses from across Europe to their HQ to the biannual Gala Event Show. Gala Tent are an award winning event supplier who have recently put their efforts into bringing outdoor event exhibitions to the north of England after growing concerns of the expense of attending the ones in the south.
For further information regarding the Gala Tent Concession Partnership Scheme contact jhardwick(at)galatent.co.uk or visit our website to register your interest in the show and department.
The first Gala Event show took place in September 2011 showcasing all of Gala's new and existing products with other outdoor event specialists was a huge success with businesses and members of the public attending from all areas of the UK and Europe.
This outdoor exhibition which runs from Wednesday 21st to Saturday 24th March 2012 has now been modified to include Gala Tent's new concessions department which involves businesses partnering up with Gala advertising in order to earn commissions.
Jonathan Hardwick, concessions manager will be on hand throughout the 4 day event to answer questions and initiate further partnerships to add to the growing list already set up throughout Rotherham and beyond. Last year's show was held in a neighbouring venue which had to be changed at short notice due to unforeseen circumstances and is now more suitably located at Gala Tent HQ located on the Manvers industrial estate.