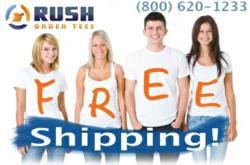 We're very lucky to have such an experienced and quality-driven professional heading up our expert t-shirt printing teams.
Nationwide - USA (PRWEB) March 12, 2012
Custom t-shirts company Rush Order Tees is pleased to announce the promotion of Jim Donaghy to Production Manager. In his new role, Jim will manage the production process and screen printing teams of one of the nation's highest volume in-house screen printers.
Jim joined the company in 2009 already having a knowledge of the screen printing and custom t-shirts industries. He has gained invaluable first hand experience as an Automatic Press Operator and Project Manager of large corporate accounts including the printing of shirts used on various television shows and by global organizations - clients of Rush Order Tees.
"Jim has been a valued asset to the business and our customers" noted Matthew Price, Rush Order Tees Operations Manager. "We're very lucky to have such an experienced and quality-driven professional heading up our expert t-shirt printing teams.
"Jim has already assumed his new role with enthusiasm and success building on his achievements as a team leader and expert screen printer. He's well respected by the team, senior leadership and our customers . This move benefits everyone including Jim, the production team, the company and most importantly RushOrder Tees' customers."
Donaghy is a talented leader with strong communication and project management skills and experience. Preceding his experience in the screen printing industry, Donaghy worked with international shipper and Rush Order Tees delivery partner - UPS (United Parcel Service). His experience with such a high performance global business leader prepared him to effectively lead teams and manage multiple projects with consistency and pride for Rush Order Tees.
In his new role, Donaghy will continue the printing and quality standards of the business as the company continues its record-breaking growth.
For more details on promotions and events, visit Rush Order Tees Google+ by google searching the term "+Rush Order Tees" or call (800) 620-1233.
--
About Rush Order Tees and Printfly
Rush Order Tees has been in business for over 10 years. Since it's founding in 2002, Rush Order Tees has expanded its product offering beyond custom printed shirts to include a wide variety of sports, academic, community-driven, commercial and business offerings including company polos, custom business shirts, custom team jerseys, custom printed hats, custom printed sweats, custom college shirts, school jerseys, custom totes, custom aprons, and more.
At the height of its growth, Rush Order Tees acquired a 15,000 SF facility in North East Philadelphia, PA which they equipped with over twenty of the highest quality screen printers, digital printers (DTG Direct to Garment printers), screen exposure units, screen printing heaters and much more.
As the company grew, it continued to offering free nationwide shipping along with "no fee" polices and an industry-leading low price guarantee. Through the years, they've developed a reputation for excellent service, value and quality. Their customers have voiced their allegiance and appreciation across many consumer-driven review sites earning Rush Order Tees overwhelmingly positive online rating and reviews across the leading sites including Google, Superpages, YP.com, and the Better Business Bureau where they hold a certified A+ BBB Rating.
Built on repeat business and referrals from satisfied customers, Rush Order Tees has grown to be a major leader in the custom shirt printing industry.
Contact Rush Order Tees at 1 (800) 620-1233.