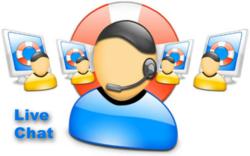 Houston, TX (PRWEB) March 11, 2012
Facebook is the mirror of the world, and this fact gets truer and truer everyday. Without Facebook, much of the world will be crippled and hindered because information delivery will be slow. Today, Facebook users can have a renewed opportunity to expand their social networks. This opportunity is presented by an interactive chat box commonly known as Chatwing.
Chatwing differs from other free chat widgets because of its versatility. It is a stand-alone program and can operate on its own website. However, users can also embed it in their own blogs to increase activity. It is also Facebook-integrated because users can log in using their Facebook accounts. Once logged in, other users can send them invitations. Through that, connectivity is amplified by a certain percentage. It has also been proven that blogs with Chatwing have great potentials for increased visibility.
A comprehensive Chatwing study pointed out that Chatwing appeals to students and 'weekend warriors' who want to engage in entertaining chat time. Aside from chatting through the Chatwing shoutbox, the users can enjoy what the host blog has to offer. Bloggers comprise most of the Chatwing user data because they realized how Chatwing can improve their blogs. Those who are looking for romantic dates also use Chatwing to meet people.
Chatwing's reach is global and anyone can use it as long as he is connected to the Internet. Large visibility spikes usually come from US, but prominent levels are also noted in the Philippines and other Asian countries. This indicates that website chat along with Facebook integration spreads like wildfire. People who use Chatwing estimate that more users will appear in the coming months.
Since Chatwing is still in early release, the visibility climb is gradual. However, the Chatwing study emphasized that Chatwing is ready to play in the big leagues because of its connecting power. Facebook users are also becoming aware of Chatwing's online presence. Chatwing's Facebook page is also generating enough likes lately.
There are various reasons why people choose Chatwing over other widgets. According to some Chatwing users, the effects of website chat are remarkable. Website exploration is entertaining and users get to meet new people per active chat box. Those people who have Facebook groups also managed to invite members using Chatwing. Facebook crowds are also recommending Chatwing to their colleagues today. New users are encouraged to visit the Chatwing website to learn more about the basics.
About Chatwing.com
Chatwing.com has developed live chat software for websites and blogs. The Chatwing.com website offers users the ability to signup and create a customizable live chat feature in 1 minute or less. Users have the ability to customize the size, color, and fonts of the chat product. The ability to chat via social media accounts such as Facebook and Twitter enable Chatwing to offer a personal and unique real-time experience to all sites. Chatwing is 100% free web software.
http://www.chatwing.com
http://www.facebook.com/chatwing
http://www.twitter.com/chatwing