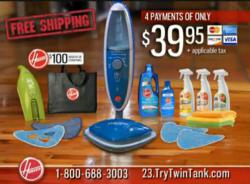 St. Petersburg, FL (PRWEB) March 21, 2012
"Steam alone is not enough to clean your floors" is the theme behind the success of Hoover's TwinTank® Steam Mop infomercial, launched recently by acquirgy. Using the "extreme demo" concept that has become the benchmark of successful Hoover infomercials, acquirgy developed the "extreme stain" concept for this production.
Demonstrating the cleaning power of steam plus cleaning solution, an extreme demo takes place in an automobile service station where the service bay floor is filthy with caked-on dirt, motor oil, grease, and grime typically found in garages. The owner of the establishment confirms the superior cleaning action, as the TwinTank® easily cuts through the muck and leaves the floor incredibly clean.
In another demo, the team visited a restaurant specializing in BBQ Ribs, where gooey, sticky and hard-to-clean BBQ Sauce referred to as "thick enough to stop a dinosaur in its tracks", spill to the floor on a daily basis. The TwinTank® with both steam and cleaning solution cuts through the mess easily and leaves the floor clean and free from potentially slippery sauce.
The infomercial also features additional demos showing removal of both typical and "extreme stains". In one scene, the co-hosts demonstrate the TwinTank's steam plus cleaning solution power by easily removing:

dried eggs
scuff marks
motor oil
latex paint
bacon grease
dried sticky honey
permanent marker
shoe polish
Acquirgy developed the "Hoover Dirty House" concept that is featured in infomercials for other Hoover floor care products as well. President of acquirgy Steven Morvay commented, "We have worked in this category before and became really excited when Hoover showed us this steam plus cleaning solution steam mop. The extreme demos we developed really gets the message through that the TwinTank® makes virtually all other steam mops obsolete."
Hoover and acquirgy have crafted an irresistible offer including an easy payment plan, free shipping, $100 in coupons, a free hand vac, four cleaning pads, three bottles of detergent and more. To track orders on the web, acquirgy developed the "TryTwinTank.com" domain and uses their proprietary tracking technology, iFactz.
To view the entire show: http://R2H.acquirgy.net
Acquirgy's Customer Acquisition IntelCenter: http://R2J.acquirgy.net
To learn more about acquirgy: http://www.acquirgy.com