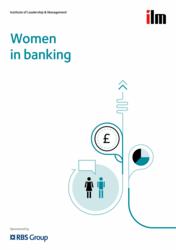 Banks can boost the number of women in senior positions by taking positive steps towards strengthening and developing transparent management processes, measuring diversity metrics and better management of flexible working.
(PRWEB UK) 13 March 2012
The Women in Banking report explores why so few women are working at senior levels in banking, the challenges they face and what banking organisations can do to address the issue. The in-depth research with over 800 men and women working across the UK banking shows that:

British banks are unintentionally filtering out top female talent
'Glass ceiling' in banking is actually a succession of cultural and organisational barriers
Enforced quotas are not popular with women or men in the industry
Cultural shift is required to create a meritocracy in banking
Nearly half (48%) of women working in the banking industry believe they face career barriers because of their gender, and one third (36%) of men agree.
The five biggest barriers to female career progression (listed in rank order of importance by women) identified in the ILM survey were; the attitudes of senior male managers (72% female v 53% male), the greater proportion of men in senior roles (70% female v 54% male), the current organisational culture (61% female v 52% male), lack of flexible working opportunities (56% female v 41% male) and the lack of female role models (41% female v 33% male).
Flexible working identified as the number one solution by 68% of women, compared to 42% of men. Just 19% of women and 10% of men felt quotas should be introduced to balance the proportions of men and women in senior roles.
Responding to the findings of the report, Charles Elvin, Chief Executive of the Institute of Leadership & Management, said: "At a time of intense scrutiny, our banks need the best and most capable people leading their organisations, irrespective of their gender. Our research shows that talented women are still finding it difficult to reach senior positions. Rather than a single 'glass ceiling', we see a series of barriers that filter out female talent at each stage of the management hierarchy. This under-representation is in many instances due to the management practices, attitudes and behaviour of senior managers.
ILM recommends a number of solutions to help tackle the lack of gender diversity in the top levels of banking.
Transparent performance management processes should be put in place to encourage promotion on merit.
Better measurement of diversity metrics will allow banks to raise awareness of the issue with all managers.
Tackling poor management practice around attendance and flexible working will address many of the concerns expressed in the survey.
Banking employers can encourage career progression for women by raising the voice and visibility of female role models who have maintained a good work/life balance.
Establishing and supporting programmes for sponsorship, coaching and mentoring of women would address the lack of confidence surrounding career progression.