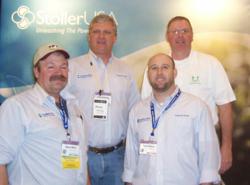 Farmers like hearing from farmers and the size of the crowds that gathered around our booth confirmed that!
Nashville, TN (PRWEB) March 12, 2012
Show traffic was backed up and the aisles congested around the StollerUSA booth last week at the 2012 Commodity Classic in Nashville. Most of the excitement centered around the progressive growers that met with farm broadcaster Pam Jahnke to share their 2011 growing season experiences.
State and National Corn and Soybean Contest Growers participated in the fun and informative format that covered a variety of topics. Growers involved in the Q&A Interview sessions included:

Kip Cullers, MO
Dave Hula, VA
Randy Dowdy, GA
Donny Carpenter, TX
Perry Galloway, AR
Jim Hilton, ME
Sam Santini, NJ
Ken Dalenberg, IL
Jason Watson, IL
Joel Armistead, KY
"We were very pleased that these innovative farmers were willing to talk about their operations," shared Marketing Director Jeff Morgan. "These are busy guys. And the fact that they take the time to reach out to other growers by sharing their ideas on enhancing crop production says a lot. Farmers like hearing from farmers and the size of the crowds that gathered around our booth confirmed that!"
All of the progress growers shared information they have learned about Bio-Forge can offset the effects of stress and maintain yields.. The discussion included insight on how the technology was applied and benefits experienced from using Bio-Forge and other Stoller products. In addition the farmers shared some of the unique challenges farmers face in their regions. Discussions included everything from the 2011 late plant issues, to water availability and the challenges of farming near major metropolitan areas.
"These are real Ag-Vocates," explained Dr. Wayne Smith, General Manager of StollerUSA. "Their innovation goes beyond crop production to stewardship of the land and building a bright future for agriculture as an industry. We are honored that they participated in the Stoller forum focusing on the positive aspects of today's agriculture."
Learn more about these progressive growers and their accomplishments at http://www.stollerusa.com/progressivegrowers .
Maximizing the genetic expression of plants, Stoller's Bio-Forge® is a proprietary formulation designed to promote plant vigor while managing excess ethylene and the stress of extreme temperatures, drought conditions, high plant populations, excess moisture—even herbicide damage. It up-regulates key genes to offset stress and maintain optimal hormone balance so plants can function properly. It is easy to use and can be applied anytime in the growing season—as a seed, in-furrow, side dressed or foliar treatment.
About StollerUSA
Headquartered in Houston, Texas and celebrating over 41 years in business, StollerUSA is dedicated to helping producers enhance yields by maximizing genetic expression. StollerUSA 's R&D team is located in an independent research facility allowing them access to the most advanced plant research technology. In addition, close ties with universities throughout the nation offer Stoller's R&D team crop perspective with a regional issues emphasis. Only Stoller products contain Stoller's proprietary technology that is proven to ensure optimum plant growth by maintaining appropriate hormone balance and activity. In combination with proper nutrition and good farming practices, the result is enhanced marketable yield, significant return-on-investment and improved stress tolerance. Validated by Universities nationwide, Stoller's unique formulations outperform traditional products and result in healthier, more productive crops that are better able to achieve their full genetic potential.