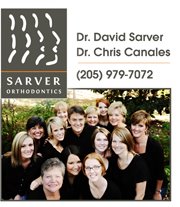 I decided to make Wes' cause something very personal to our practice, our patients and employees, alike, to help spread the word, and ultimately, to help Wes beat the disease.
Birmingham, AL (PRWEB) March 10, 2012
Birmingham Orthodontist Dr. David Sarver was quick to react when he received word that Allen "Wes" Edgar needs the community's help to remain eligible for a kidney transplant. He wrote a check on the spot toward the $20,000 to $40,000 needed for Wes to continue immunosuppressant treatment alone. And then he pledged even more. "I decided to make Wes' cause something very personal to our practice, our patients and employees, alike, to help spread the word, and ultimately, to help Wes beat the disease," offers Dr. Sarver.
"Personal to the practice" means something pretty significant to the cause as Sarver Orthodontics is pledging $100 to Wes' charity for every new patient that begins orthodontic treatment in the month of March. The Birmingham braces and Invisalign specialist's spokesperson, Drue O'Kelley, states, "When Dr. Sarver suggested his plan to the staff, we were thrilled. It's very much the person that Dr. Sarver is." She adds, "Given the number of people with whom we communicate daily, we have a unique opportunity to spread the word. It may require that we tighten our belts, but I can't imagine a better reason than to support a Birmingham family that has supported Birmingham at every turn."
Dr. Sarver knows the Edgar family personally, but it's not for this acquaintance alone that he's pledged to help Wes. Dr. Sarver states, "They are the family that is always the first to volunteer and the last to leave once involved. They are the family that is always at the ballpark, church, or community events, selflessly helping, coaching, umpiring, everything. They are the people that make Birmingham a great place to live." So in their time of need, Sarver Orthodontics is glad to answer the call.
Wes was diagnosed in July 2011 with End Stage Kidney Disease.  In mid-August, he had surgery to prepare for peritoneal dialysis at home and hemodialysis should it become necessary.  He has begun peritoneal dialysis four times a day and hopes to go to a cycler machine, which will do the dialysis at night while he sleeps. Unfortunately none of his family members are able to donate a kidney due to medical issues. And to make matters worse, Wes' employer terminated him just as he was beginning dialysis. COBRA covers his high deductible insurance but it will only last 18 months and will not cover the costs for the transplant and lifelong kidney care.  In order to be placed on the transplant list he has to raise enough money to cover the prescriptions and treatment that will not be covered by insurance. This is a long lasting situation, as he must take these medications for the rest of the new kidney's life.
Sarver Orthodontics has created an application on its Facebook page (http://www.facebook.com/SarverOrtho) called "Helping Wes Edgar" that provides details, along with a link to donate directly to the charity. The main focus of the application on Facebook is to give the world an easy way to share the information with friends. "I hope that our pledge to help Wes yields a wave of support," says Dr. Sarver. "At the end of the day, we are a society of friends helping friends. And the Edgars are a family that we would all hope to have as friends."
About Sarver Orthodontics:
Birmingham Invisalign specialists, orthodontists Dr. David Sarver and Dr. Chris Canales of Sarver Orthodontics endeavor to give their patients a smile "worth smiling about." The practice's top priority is to provide the highest quality of orthodontic care in a friendly, comfortable environment. Featuring all-digital, computerized offices in Vestavia Hills, Sarver Orthodontics utilizes the latest and most efficient treatment procedures available.