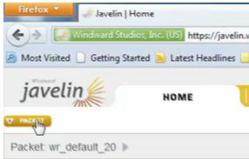 "Business professionals are responsible for a wide range of tasks, and our enhanced Javelin scheduler allows them to automate a key aspect of their workload," said David Thielen, CTO of Windward.
Boulder, CO (PRWEB) March 09, 2012
Just in time for the switch to Daylight Savings, enterprise reporting software expert Windward has released a timely update to its Web-based reporting software tool, Javelin. Javelin's automated scheduler ensures that reports will continue to be distributed at the exact moment required, no matter the time zone, and the latest enhancements enable Javelin to interface directly with crucial business workflow management systems.
"Business professionals are responsible for a wide range of tasks, and our enhanced Javelin scheduler allows them to automate a key aspect of their workload," said David Thielen, CTO of Windward. "You may 'lose' an hour because of the time change, but using Javelin means you will gain back that hour hundreds of times over."
For example, the ability to integrate scheduled reports with company workflow systems means businesses can easily track when reports are generated for review. They can create custom notifications when reports are generated to tie into custom software systems. In addition, professionals who may be suffering from sleep deprivation due to the Daylight Savings switch don't have to worry about remembering to distribute reports on time, because Javelin allows reports to be created and run automatically with its "set it and forget it" scheduling.
Other key components of the web-based reporting software suite include broad data access – employees and customers from across an organization and beyond can obtain up-to-the-minute reports from multiple locations – and pooled resources that enable companies to deploy reporting while making the most of their existing system.
Also, because Javelin is platform-agnostic, users can generate reports using a programming language other than Java or the .NET family of languages. They simply make a Web service call (a generic way to communicate that doesn't depend on the programming language), opening up options for programmers across the globe who work in languages such as Ruby or Python.
"Approximately 70 countries in the world observe Daylight Saving Time, and Windward is in use by companies in 70 countries," noted Annette Grotz, Marketing Manager at Windward. "Coincidence? We think not."
About Windward
Windward offers business intelligence, enterprise reporting, document generation and Web-based business intelligence solutions. Launched in 2002, Windward is the only full-featured, robust Java and .NET engine to use Microsoft Word, Excel and PowerPoint as a layout tool, putting template design and report and document generation power in the hands of the end user. Any Office user can easily and securely create reports and documents with almost no learning curve. Additionally, OEMs and VARs use Windward's reporting component.
Windward works by merging any XML, SQL or custom data source—or any combination thereof—with a Microsoft Office report template. It feeds data into the template to create a what-you-see-is-what-you-get report or document that can be generated in DOCX, XLSX, PPTX, PDF, HTML, direct to printer, RTF, XLS, WordML, TXT, and CSV. Windward runs as a standalone application or in an enterprise computing environment. Also unique, Windward implements in hours, offers affordable server-based pricing, and offers "prompt, fantastic" technical support via a 24/7 support forum and support contracts. A free trial of Windward's products is available at http://www.windward.net.
The Windward user group spans 70 countries. User applications include financial statements, inventory reports, product-usage reports, purchase orders, invoices, training certificates, timesheets, and licenses. Other applications include reporting to meet requirements of Sarbanes-Oxley, Patriot Act, ARRA, HIPAA, Health Level Seven, Gramm-Leach-Blailey, Basel II, and other U.S. and international acts and accords affecting financial services, real estate, government, and insurance industries and the consultants and integrators serving them.