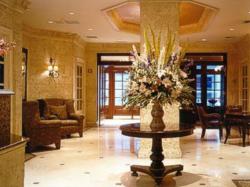 Faux coral stone brings a tropical look to any décor
Deer Park, NY (PRWEB) March 13, 2012
Faux stone paneling can now bring the look of a seaside village to your home thanks to the Norwich Coral Stone siding from Faux Panels. Lightweight yet highly durable, now the average homeowner can create faux coral designs without harming the environment.
"When it comes to design, people want options," said Steve Barron, president of Faux Panels. "Real coral is rare, incredibly expensive, not practical for many climates and getting it harms fish habitats. Our Norwich coral paneling provides the exact same look in a way that's economical and environmentally sound."
Anyone who has visited the Caribbean, Mediterranean and other seaside towns around the world knows how beautiful coral stone buildings can be. Designers love it because of the tropical feel it adds to a building, but today it's usually price prohibitive and might not be readily available in a given area.
Environmentally Sound & Beautiful
Real coral in the ocean is the home to fish and other marine wildlife. Norwich coral stone veneer provides the look you want while easing your conscience in regard to the environmental impact – no fish are disturbed for your decorating plans.
To ensure an authentic appearance, Norwich manufactured stone panels are made from molds created from genuine coral stone. Unlike real coral, these polyurethane panels are very durable and won't chip or crack.
Even better, the light weight of the faux stone panels means that it can be used in DIY projects or by contractors and architects in areas where coral stone's genuine weight would be a problem. Use it as foundation cover, to edge a deck, create an exterior accent wall or cover an entire house.
Norwich coral stone siding is very low maintenance – just the occasional power washing is needed. They resist wear and tear, and hold up beautifully in all climates without shrinking, cracking or warping.
"Homeowners and decorators have always found the widest range of styles and options here at Faux Panels, from stacked stone panels to faux bamboo to brick veneer and more. Now with Norwich Coral Stone Panels, they can even create the look of an island hideaway while staying environmentally sensitive," said Steve Barron.
If normal brick and stone are too conventional for your taste, Norwich coral stone siding is just the thing to create a unique design for your home or business.
FauxPanels.com is an industry leader due to wealth of installation guides for DIYers and the best selection of the realistic faux brick, stone and wood panels and columns on the market. Its products have been regularly featured on television shows such as "Celebrity Apprentice" and numerous appearances on "Extreme Makeover: Home Edition." FauxPanels.com is a subsidiary of Barron Designs Inc., a family-owned home improvement business operating since 1972. For more information, visit http://www.fauxpanels.com.