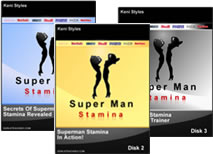 The number one problem with most solutions is simply misinformation.
(PRWEB) March 12, 2012
Campus Throne, the widely popular and informative website for men learning how to navigate the college dating scene, has announced a partnership with Superman Stamina to create a video series that will assist men who are having a tough time staying sexually-responsive in the bedroom.
"Every guy goes through it at some point in their life," says Campus Throne's Bobby Rio. "Just because you're young doesn't mean you're immune. But there's such a stigma attached to it that most men are afraid to get help. We want to change that by offering easy-to-understand and utilize solutions that will keep this tiny speed bump from affecting their sex lives."
The Superman Stamina series delves into the causes of sexual dysfunction, both mental and physical. By going through what makes a man lose the ability to perform sexually, the series hopes to provide both an understanding to men that the problem they are facing is common and curable. From there, the video series goes through the most commonly-used solutions for sexual disfunction, and then proceeds to break down exactly what's wrong with them.
"The number one problem with most solutions is simply misinformation," says Rio. "These fly-by-night organizations that make you drop hundreds of dollars on a single pill, and then that doesn't even work."
Instead of supplements, the Superman Stamina series utilizes actual expertise from an adult film actor, Keni Styles, in participation with an attractive assortment of female co-stars. Styles draws from years of experience in the adult field, taking various tricks that he's learned during his time on sets and bringing that knowledge to viewers of the video series. His demonstrations will help assist men increase their own stamina and prevent sexual dysfunction incidents from happening in the future.
Styles participates in three videos for the series. The first video shows Styles talking about the common problems that men have with sexual disfunction and a lack of stamina. He then details exactly why some of these problems exist, seeking to educate men rather than just throwing drugs at the problem. The second video show how Styles personally builds up his stamina, offering tips for how the viewer can do so as well in the privacy of their own home. The third video is a training video where Styles coaches viewers into practicing the techniques that he has taught them in the previous video.
Campus Throne has chosen to give this product their support because of the confidence it gives men when they're trying to strike up conversations with girls.
"You'd be shocked at what a difference this product makes," says Rio. "Just feeling secure in knowing that you're going to perform when it counts gives men an amazing amount of confidence when approaching and flirting with girls."
The partnership between the two companies is a testament to the effectiveness of the product and the importance of the role that self-confidence has when it comes to dating.
You can learn more here: http://thecampusthrone.com/superman-stamina-review-will-it-make-you-last-longer