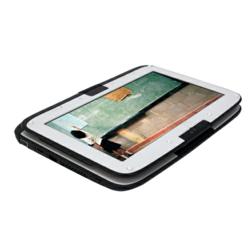 "With the addition of the Companion Touch in our classmate PC product offering, students have an exciting and fun way to engage in interactive and collaborative exploration."
Dallas, TX (PRWEB) March 12, 2012
M&A Technology, a leading provider of technology products and services, is launching a new model of the Companion Touch powered by the latest Intel dual core Atom processor. The new Companion Touch will have an option to support pen and multi-touch with N-trig DuoSense® technology that provides the best experience in digital ink. The new Companion Touch 2600 is a continuation of the Intel ® Learning Series designed specifically for education. M&A Technology will offer two models; a low cost version with a resistive touch screen and palm rejection, and a premium version with an N-trig screen that supports multi-touch, pen input and palm rejection.
The new Companion Touch comes in a sleeker design while maintaining its ruggedized features for day-to-day usage in the classroom. Powered by the Intel Atom 2600 processor, the Companion Touch offers better performance and longer battery life. The new device comes with a 10.1" touch screen which improves 1:1 eLearning and teaching. The built-in handle offers a student-friendly tablet for usage in the classroom and at home.
Compared with many tablets in the educational market, the Companion Touch addresses the need for an affordable and complete tablet PC ideal for the K-12 market. It is the only device in the market that addresses the educational needs for:
1. True pen and paper experience with palm rejection for taking notes in the classroom
2. Built-in keyboard for students to type
3. Screen rotates in portrait mode for E-Reader functionality
The convertible screen makes it easier to interact with the device and share work in group activities. The built in webcam swivels 180 degrees to capture pictures and video from different angles. The Companion Touch 2600 comes pre-loaded with the Intel Learning Software Suite that can be custom adapted to all educational environments.
As an Intel Authorized Integrator, M&A Technology will make this device available through normal distribution channels for Intel resellers throughout the US. Resellers will have the ability to customize the tablet for their specific markets. "We are very excited to collaborate with M&A on the Companion Touch" said Dr. Wayne Grant, Director of Research and Planning at Intel Corp. "With the addition of the Companion Touch in our classmate PC product offering, students have an exciting and fun way to engage in interactive and collaborative exploration."
"We appreciate M&A's commitment to providing educators with the most appropriate digital tools for students of all ages, and believe that our DuoSense pen and multi-touch solution is a perfect fit," said Ronen Heldman, VP Marketing, N-trig. "By enabling children in the classroom to draw and sketch, take notes and complete assignments directly on their e-textbooks, DuoSense converts the tablet education experience from mere content consumption to real creativity and productivity."
The standard configuration comes with a 10.1" resistive touch screen, 160GB hard drive, 2 GB RAM, 2.0 MP rotating camera, Bluetooth and built-in handle. The device comes standard with a 10 hour battery for all day usage. A full description of the product is available at http://www.macomp.com.
About M&A Technology:
M&A Technology, a leading solutions provider since 1984, offers a wide range of custom technology solutions for education that are based on innovation to improve productivity and reduce the total cost of ownership through technology. Our ISO 9001-2008 certified manufacturing facility offers a flexible platform for contract manufacturing that is focused on customer requirements and quality of our products. In addition, M&A Technology offers custom-built servers, workstations and high performance computers that are all made in the USA. More information is available at http://www.macomp.com.
Contact:
Jihad Jubran, Senior VP of Business Development
2045 Chenault Drive
Carrollton, TX 75006
800-225-1452
jjubran(at)macomp(dot)com