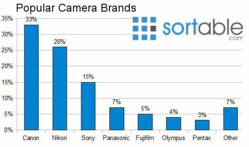 33% of consumers prefer Canon over other brand
Waterloo, On (PRWEB) March 12, 2012
New consumer data released today by online purchase agent Sortable shows more than 33 percent of consumers favour Canon when making a camera purchase. The study, which surveyed more than 275,000 people over a six month period, also found consumers are split between Point and Shoot cameras and DSLR's with 36 percent of consumers looking for each type of camera.
Canon Takes Top Brand Spot
In a brand war traditionally fought between Nikon and Canon, it appears that Canon now has the upper hand, with 33 percent of consumers indicating it as their preferred camera choice according to online consumer buying trends drawn from Sortable's partner, Snapsort, a web site that allows people to analyze, compare, and recommend digital camera options. Nikon falls to second place with 26 percent, followed by Sony at 15 percent, Panasonic with 7 percent, Fujifilm at 5 percent, Olympus at 4 percent and Pentax at 3 percent. Other manufactures make up the final 7 percent.
Rising Popularity of Mirrorless Cameras
With a range of camera options available, survey data shows consumers remain split in their preference between Point and Shoot and DSLR cameras. Data shows 36 percent of consumers are searching for both. Most surprising in the survey was the rising popularity of Mirrorless cameras, a relatively new technology in the camera market. Mirrorless cameras stuff a DSLR size sensor into a small portable package, with interchangeable lenses for greater flexibility. Sortable's survey identified that 22 percent of consumers are searching for Mirrorless camera options, leaving the leading brands in a bit of a deficit position. Canon has yet to enter the Mirrorless market, and Nikon has just entered. Sortable believes this emerging trend gives Sony, Panasonic and Olympus the opportunity to take brand share.
About Sortable
Sortable takes the pain out of buying by helping users find and compare the latest electronics. After two years of development, Sortable.com was launched earlier this year and has quickly become the leader in the decision engine space.