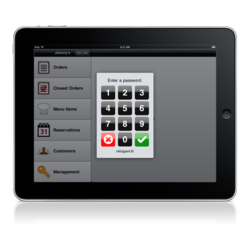 Ambur 1.9 is to be displayed at the Wisconsin Restaurant Expo 2012
Buffalo, NY (PRWEB) March 09, 2012
Ambur is set to appear at the Wisconsin Restaurant Exposition from March 12 – 14 at booth # 938, part of the i.Menu Expo.
Released on the App Store in April, 2011, Ambur set out to revolutionize restaurant management and change the way people view point of sale systems. Serving as a solution to expensive traditional point of sale systems, the iPad Point of Sale system offers customizable table layout, wireless printing, seamless cash drawer integration, employee tracking and an especially easy setup, highlighting just a few of the features that will save owners and managers countless hassle and hours.
Ambur further sets itself apart from other iPad point of sale systems by offering a low price of $999, no reoccurring charges for it's use, and allowance of an unlimited number of devices (iPad/iPod touch/iPhone) to be connected and used as additional "terminals" or mobile ordering devices.
Ambur 1.9—the latest update—is the version to be displayed at the show. Recently released to the App Store on March 8th, 1.9 offers many new additions. Visit the booth to see it in action alongside it's hardware, or experience it for yourself by visiting the App Store from any iOS device and searching for Ambur – Point of Sale. Updates are free for life, and with a host of new features, there has never been a better time to join the growing number of establishments using the wireless iPad point of sale app Ambur than now.
Live demonstrations were found to be appreciated and informative following a productive experience at the CRFA Expo in Toronto's Direct Energy Center.
Visit our website for more information about our iPad point of sale system.