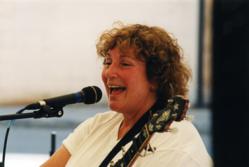 A wonderful two day old time banjo course in a delightful rural South Shropshire setting.
Shrewsbury, Shropshire, UK (PRWEB UK) 12 March 2012
Like all courses at Gleanings, the Old Time Banjo course will be run as a small, intimate group, providing a relaxed, friendly atmosphere in which to soak up knowledge as well as giving everyone the opportunity to make new friends.
The 'Old Time Banjo' course led by Sara Grey runs from 10am to 4.30pm on Saturday 31st and Sunday April 1st 2012.
The course is suitable for beginners through to more experienced old time banjo players and is designed to be inclusive for everyone.
On Saturday Sara will work on frailing, drop thumb and double thumb techniques, and various other aspects that make up the old time style. If the group "surges ahead", Sara says she will incorporate these techniques into a tune for everyone to perform.
On Sunday the course will focus on co-ordinating the banjo and song, although the course is flexibly structured to allow the group to work on other aspects if they prefer.
Course leader Sara Grey has a wonderful reputation for both playing and teaching. It is not Sara's lovely voice alone that makes her one of the most popular singers on the folk scene, on many of her songs Sara accompanies herself by frailing a five string banjo and, when playing tunes, it is obvious why she is regarded as one of the foremost exponents of the old-time style.
As well as singing and playing superbly Sara is a fine teacher and story teller specialising in stories from New England where she grew up.
As part of Gleanings Concert Series, Sara will be performing an evening concert at Hope Village Hall on Saturday evening, 31st March, at 8pm. Tickets are £6 and are available on 01743 891412 or by emailing yj.hart(at)virgin(dot)net.
Tickets to the weekend course and the concert are still available from the Gleanings website http://www.gleanings.co.uk or by email gleaningscentre(at)gmail(dot)com or by phoning 01743 891412.
The cost of the weekend course is £120, which includes home-cooked lunches, snacks and refreshments during course time. Booking is essential.
The Old Tome Banjo course at the Gleanings is supported by Banjos Direct, the UK's leading specialist banjo retailer.
Banjos Direct is the UK and Europe's No.1 Gold Tone dealer, stocking the complete range of more than 130 instruments from Florida-based Gold Tone who have become one of the most admired makers of banjos and other roots instruments in the world. Banjos Direct has recently become the UK's leading retailer of USA hand-made Nechville banjos.