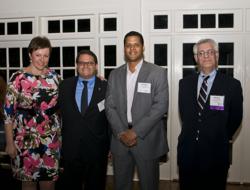 Atlanta, Georgia (PRWEB) March 12, 2012
Habif, Arogeti & Wynne, LLP, one of the top 50 accounting firms in the U.S. and Georgia's largest independent accounting firm, celebrated International Women's Day, while promoting Georgia's thriving international community, during a gala held on Thursday, March 8.
The International Gala, hosted at Flint Hill, a historic mansion built in 1835, in Norcross, GA, was attended by more than 100 international businesspeople, international chambers of commerce and consulate generals from across the state. Represented were guests from 23 countries, including Argentina, Canada, Chile, China, India, Russia and South Korea. Guests enjoyed cultural food and entertainment, featuring a Russian children's choir, Russian dancers, Irish dancers and South Korean drummers.
"Habif, Arogeti & Wynne is dedicated to Georgia's growing international community," said Richard Kopelman, managing partner-elect at HA&W. "We have an experienced team wholly dedicated to assisting international companies facing many of today's difficult business challenges, such as transfer pricing, cost segmentation and nexus tax issues."
HA&W truly is an international firm, with more than 50 employees being native speakers of more than 22 languages. In addition, HA&W operates in and out of more than 35 countries.
"Over the last decade we have seen immense growth in Georgia's international marketplace, said Yelena Epova, partner in charge of HA&W's International practice and a native of Russia. "When I first moved to the U.S. Atlanta wasn't a very international city and today it is home to thousands of international businesses. It is HA&W's mission to promote the international businesses in the state."
For more information about HA&W or the firm's International practice, contact Yelena Epova, partner, at yelena(dot)epova(at)hawcpa(dot)com.
About Habif, Arogeti & Wynne, LLP:
Habif, Arogeti & Wynne, LLP is the largest independent accounting and business advisory firm headquartered in Georgia, and one of the top 50 firms in the United States. The firm's more than 300 professionals provide financial solutions – including accounting, auditing and tax services, forensic and litigation services, management consulting, financial planning, technology consulting and financial staffing – to more than 15,000 clients in a variety of industries. HA&W serves its expanding list of international clients through its membership in Baker Tilly International, an association of leading independent accounting firms worldwide. HA&W Wealth Management and HA&W Benefit Advisors are both subsidiaries of HA&W. For more information on HA&W, visit http://www.hawcpa.com.