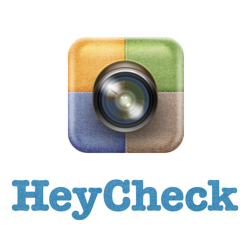 The Photos You Take Can Be Memories!
Moscow, Russia (PRWEB) March 12, 2012
Software development company Andrea Veneto Ltd. announced today that it will release HeyCheck, its first free application, on March -- for iOS. HeyCheck is both an advanced camera and a handy photo editor which extends the creative possibilities of editing images stored on mobile phones, Facebook and Instagram accounts while offering a high level of compatibility with social network services. HeyCheck allows its users to quickly turn any image into a colorful and memorable card by applying dazzling filters, beautiful effects, cute photo frames and compelling captions before sharing the image with friends.
The "wheel" interface at the center of the HeyCheck application was modeled after the signature Click Wheel featured in legacy iPod® models.
"We truly like this idea. It brings back so many nostalgic feelings," said Olga Morozova, the lead artist on the HeyCheck team. "That said, we didn't stop at creating the concept of the app's design. We really tried to fill HeyCheck with content that is trendy, yet unique for these types of applications. We hope that users will like the kit of instruments we prepared for them."
With HeyCheck, users don't have to switch between separate applications to perform essential tasks. They can share their newly-made cards with friends from Facebook, "like" the photos they admire and also comment on them without leaving HeyCheck. In the future, users will be able to keep their newly-created cards on HeyCheck's cloud server and access their own personal photo files using any popular web browser. This way, users will be able to perform any of the tasks described above on a computer, anywhere
and anytime.
The HeyCheck app also makes extensive use of geotagging in order to show where photos were taken. Users can simply drag and drop a pin on the built-in map to set the exact location. Depending on the version of the map, users will have the ability to see what their friends -- or even the entire HeyCheck community -- have decided to share.
"The app's deep integration with Facebook gives you the opportunity to quickly access your photos and to comfortably communicate with your friends," said Dmitry Pleshakov, the leader of the HeyCheck team.
HeyCheck is designed to offer more than just one way for users to express their feelings about the photos they see. Instead of a one-size-fits-all "Like" button, HeyCheck offers several emoticons which allow users to adequately express their current moods.
"We tried to make HeyCheck that special app with which snapshots of your life become professional-looking cards that reflect your mood," added Mr. Pleshakov.
So, HeyCheck is here to help users transform images captured on their mobile devices into unique digital postcards. Users can edit their photos with HeyCheck or further enhance their already-edited images by using HeyCheck as a companion application to their photo editing app of choice. Either way, the end result is the same: dazzling, high-quality digital postcards that can be shared with friends.
HeyCheck is available in Apple's App Store starting March 5. It is free to use, and users will also have the option to purchase additional filters, effects and photo frames that they won't find anywhere else.
Andrea Veneto Ltd. is an investment project of In-Mobile Investments Venture Company (IMI.VC). It was established in 2012 by Igor Matsanyuk, a successful digital entrepreneur in Eastern Europe, and his partners. The company's mission is to help talented development teams which specialize in creating gaming, entertainment and utility apps. Currently, the company's portfolio features 26 projects in different stages of development.
###
Website: http://heycheck.com
Link to the app's place on AppStore: http://itunes.apple.com/app/heycheck/id500544322?mt=8