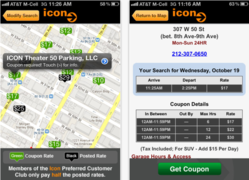 Manhattan, NY (PRWEB) March 12, 2012
Icon Parking Systems announced today the release of its new Icon Parking App for the iPhone and Android, which offers users detailed information on locations and rates for nearby parking, allowing them to find the right parking spot at the right price while remaining close to shopping, entertainment and fine dining venues. The new iPhone Icon Parking App allows users to quickly search locations through a GPS and price parking options within a specific radius of their destination, making the choice of where to park easier and faster than ever before. Additionally, Icon Parking Systems offers smartphone users the ability to receive daily hourly parking coupons via their mobile phone, instantly making a good deal even better for Icon Parking customers.
Both the new iPhone app and Android app are clear and easy to read with an intuitive interface that allows users to enter their chosen destination and automatically receive a list of nearby parking locations along with pricing and available coupons. This streamlined mobile phone application provides comprehensive parking information including a helpful button for one-touch telephone assistance from staff members at the closest Icon Parking Systems facility. This added functionality ensures that iPhone users enjoy instant access to the most up-to-date information on parking in the Manhattan area.
Icon Parking Systems has long been a leader in parking technology and green-friendly practices. Many Icon Parking Systems facilities feature electric vehicle charging stations to provide added convenience for vehicle owners, and "Smart for Two" drivers can receive a significant discount on parking fees with Icon Parking Systems. The new iPhone app is the latest in a long series of innovative advances in parking technology from Icon Parking Systems, a company that has built its considerable reputation on providing reasonably priced parking solutions in the bustling metropolis of Manhattan.
The new Icon Parking App for the iPhone can be downloaded at no cost to consumers at http://itunes.apple.com/us/app/icon-parking/id394377820?mt=8
About Icon Parking:
With over 200 parking facilities in Manhattan and fifty years of operations, Icon Parking Systems is a true New York institution and provides affordable parking solutions for guests and sightseers as well as to residents of the Big Apple. Icon Parking Systems facilities are conveniently located close to most major tourist attractions and entertainment complexes, providing easy access to these cultural touchstones throughout the Manhattan area. Hourly, daily and monthly rates are available at most Icon Parking Systems facilities with significant discounts for groups, long-term parking and certain smaller economy vehicles.
Contact:
Icon Parking Systems
PHONE: 877-PARKING or 877-727-5464
FAX: 1-212-721-6049
http://www.iconparking.com