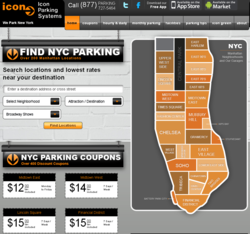 New York, NY (PRWEB) March 12, 2012
The new Icon Parking System site features an easy-to-use interface, clean design, improved navigation, and more money saving NYC Parking coupons. The site also provides a highly accurate destination search, which can be used to find destination addresses and cross streets. Users can also search by selecting a neighborhood, attraction/destination, or Broadway shows via three pull down menus.
The new site provides users with a large map of Manhattan neighborhoods that are home to Icon Parking facilities. By simply clicking on any of the neighborhoods, from the Upper West Side to the Financial District, users can locate an Icon Parking facility quickly and easily.
Other features of the site include introductory monthly NYC parking specials. New customers can enjoy up to 50% off of normal monthly rates. For hourly and daily coupons, the new Icon Parking site allows you to search by neighborhood and provides you with printable coupons with rates as low as $5.00 per day.
The site's easy-to-use navigation gives users access to other features, such as facilities, parking tips, and icon green. This last feature helps customers who own electric or hybrid vehicles find charging stations near their homes and work places. This feature is powered by Beam Charging and Car Charging, Inc., two of New York's premier electric vehicle charging companies. Other partnerships listed on the site are Hertz on Demand, and Smart for Two. Both of these companies provide discounted rates for Icon Parking customers.
The new Icon Parking site also provides information about the Commuter Check card. This card allows users to save up to an additional 40% on parking costs through their employer's pre-tax commuting program. Other features of the site include monthly parking tips, parking inquiries and the preferred customer club, which provides monthly customers with 50% savings off every hourly rate in every Icon Parking facility.
Icon Parking Systems has been in business for over 50-years providing professional, attended and secure parking services for New York City. Their 200-plus parking facilities are located in nearly all of Manhattan's prestigious and high-profile neighborhoods. They continue to add new locations all over Manhattan and have been at the cutting edge of value for NYC commuters, visitors and residents and near many of Manhattan's best restaurants, theaters, concert halls, shopping areas, event destinations, and medical facilities.
For more information on Icon Parking's new Web site, visit http://www.iconparking.com. Inquiries may also be made via the toll free number at 1-877-PARKING.
Contact:
Icon Parking Systems
PHONE: 877-PARKING or 877-727-5464
FAX: 1-212-721-6049
http://www.iconparking.com