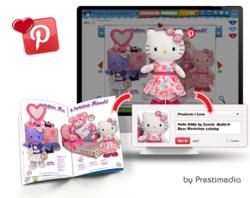 Prestimedia's capability to recommend products on Facebook as well as on Pinterest is a completely new feature that we feel our Guests will really enjoy using.
San Jose, CA (PRWEB) March 13, 2012
Today, Prestimedia, the leading interactive catalog solution provider, announced a new "I Love it" Pinterest feature for its interactive digital publications, providing retailers with a powerful tool to reach social media website Pinterest's more than 12 million monthly U.S. visitors while offering users a unique interactive shopping experience, making Prestimedia the first interactive publication company to offer this type of social media interaction.
"The 'I Love It' Pinterest feature redefines social media for the business to consumer catalog industry," said Isabelle Ciacchella, head of U.S. operations, Prestimedia. "By allowing users to pin images from a virtual shopping catalog directly to Pinterest, we're offering consumers a customized social media experience and increasing brand image awareness for our customers."
Pinterest is a social media website where users can organize and share images on a virtual pin board, which is customized according to a specific theme, such as wedding inspiration ideas or favorite recipes. Users can share their favorite things by pinning images on the pin board and then monitor their board's activity and repin ideas from the people or brands that they follow, making the social media site an effective method for sharing merchandise through visual imagery.
According to online sharing tool Shareaholic, Pinterest drives more referral traffic than Twitter,
so Prestimedia's "I Love It" Pinterest capability comes at the perfect time, offering brands a powerful new way to interact with audiences and attract current and potential customers. Prestimedia's interactive digital catalogs allow brands to engage with readers by giving users the capability to post a brand's visual images from catalogs, magazines, brochures or reports to Pinterest. The link behind the image opens the interactive catalog directly on the page with the featured product, enabling brands to enjoy a natural referral on Pinterest with existing visuals from their catalog.
"We were looking for an innovative solution that would boost the visibility of our new spring catalog online and on mobile devices," said Josh Hawkins, interactive director, Build-A-Bear Workshop®. "Prestimedia's capability to recommend products on Facebook as well as on Pinterest is a completely new feature that we feel our Guests will really enjoy using."
Prestimedia's Premiumbook® and E.print interactive catalog solutions will all feature the new "I Love It" Pinterest capability, giving Prestimedia customers an additional way to increase revenue by tapping into social media referrals.
To view a demonstration of Prestimedia's Build-A-Bear Workshop interactive publication, visit: http://www.buildabear.com/images/catalog/appli.htm.
For more information about Prestimedia, visit http://www.Prestimedia.com / or call +1 408-351-3340.
Follow us:
Twitter @PrestimediaUS
Facebook : http://www.facebook.com/Prestimedia.Inc
About Build-A-Bear Workshop, Inc.
Build-A-Bear Workshop, Inc. is the only global company that offers an interactive make-your-own stuffed animal retail-entertainment experience. There are more than 400 Build-A-Bear Workshop stores worldwide, including company-owned stores in the U.S., Puerto Rico, Canada, the United Kingdom and Ireland, and franchise stores in Europe, Asia, Australia, Africa, the Middle East, Mexico and South America. Founded in St. Louis in 1997, Build-A-Bear Workshop is the leader in interactive retail. Brands include make-your-own Major League Baseball® mascot in-stadium locations, and Build-A-Dino® stores. Build-A-Bear Workshop extends its in-store interactive experience online with its award winning virtual world and entertainment destination website at bearville.com™. The company was named to the FORTUNE 100 Best Companies to Work For® list for the fourth year in a row in 2012. Build-A-Bear Workshop posted total revenue of $394.4 million in fiscal 2011. For more information, call 888.560.BEAR (2327) or visit the company's award-winning website at buildabear.com®.
About Prestimedia
Prestimedia is the leading interactive publication solution provider and branded mobile apps developer, helping companies dynamically share their content and engage with customers on the web and through mobile devices in a way that no other solution offers. With experience creating more than 20,000 publications for over 500 customers ranging from Fortune 100 companies to small businesses, Prestimedia's comprehensive family of interactive online catalogs, magazines, brochures, and annual reports, create a synergy between print, web, mobile, social and merchandising.
Visit the website at : http://www.Prestimedia.com