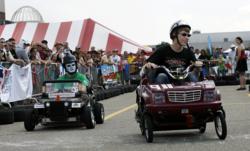 We're excited to bring this festival back to The Henry Ford to ignite creativity and innovation in those who love to tinker," said Patricia Mooradian, president of The Henry Ford
Dearborn, Michigan (PRWEB) March 12, 2012
Maker Faire Detroit, a celebration of unbridled creativity and unconventional imagination, returns to The Henry Ford, July 28-29, 2012. Since 2010, more than 40,000 people have attended this two-day, family friendly festival featuring more than 300 makers, tinkers and hackers displaying their wares, fares, ideas and inventions. Additional information will be released as it becomes available.
"The success of the 2010 and 2011 Maker Faire Detroit events has proven the possibility of what ordinary individuals can do, right here in a region brimming with doers, thinkers and makers," said Patricia Mooradian, president of The Henry Ford. "We're excited to bring this festival back to The Henry Ford to ignite creativity and innovation in those who love to tinker."
Maker Faire Detroit offers everything from robots, flame shooters, animatronics, solar-powered mechanical sculptures, fashionable finds, to musical performances, fire arts and hands-on activities. Back by popular demand are some Faire favorites including The LifeSize Mousetrap, Cirque Amongus, i3Detroit Hackerspace and Handmade Detroit. And don't forget the Coke and Mentos guys!
Members of The Henry Ford can purchase their tickets beginning April 25, 2012, with non-member tickets available starting May 9, 2012. For more information, call (313) 982-6001 or visit http://www.thehenryford.org/makerfaire.
Join our FB page: MakerFaireDetroit
About The Henry Ford
The Henry Ford, in Dearborn, Michigan, is the world's premier history destination and a National Historic Landmark that celebrates American history and innovation. Its mission is to provide unique educational experiences based on authentic objects, stories and lives from America's traditions of ingenuity, resourcefulness and innovation. Its purpose is to inspire people to learn from these traditions to help shape a better future. Five distinct attractions at The Henry Ford captivate more than 1.5 million visitors annually: Henry Ford Museum, Greenfield Village, The Ford Rouge Factory Tour, The Benson Ford Research Center and The Henry Ford IMAX Theatre. The Henry Ford is also home to Henry Ford Academy, a public charter high school which educates 485 students a year on the institution's campus and was founded in partnership with The Henry Ford, Ford Motor Company and Wayne County Public Schools. For more information please visit our website thehenryford.org.
About Maker Faire: Maker Faire's mission is to inspire, inform, connect and entertain thousands of Makers and aspiring Makers of all ages and backgrounds through the public gathering of tech enthusiasts, crafters, educators, tinkers, hobbyists, science clubs, students, authors and commercial exhibitors. Started in San Mateo, California in 2006, Maker Faire held the 5th annual festival in the Bay Area this past May, 22 & 23, in San Mateo, California. As Maker Faire continues to grow in popularity and relevance, Maker Faire will expand to two new cities in 2010, Detroit and New York City. See the Maker Faire website for details http://www.makerfaire.com. Maker Faire is supported by MAKE Magazine, makezine.com, craftzine.com and O'Reilly Media, the premier information source for leading-edge computer technologies. The company's books, conferences and web sites bring to light the knowledge of technology innovators.