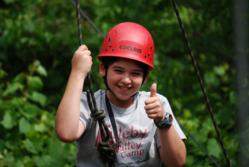 In our R.I.S.E. program, our campers will be given a greater opportunity to take on more responsibility, while developing a greater sense of independence.
Toronto, Ontario (PRWEB) March 11, 2012
Kettleby Valley Camp, an Ontario summer day camp and overnight camp, has been providing safe and exciting programs for the past 15 years. Children from all over Ontario including Toronto, Richmond Hill, Aurora, Newmarket and Vaughan enjoy the summer camp activities. This year, the camp has been developing a new way to deliver their program to senior overnight campers. Starting in July, campers who have completed grade 6 or higher and have registered for one or more of the week-long overnight camp sessions will take part in the R.I.S.E. program.
In the R.I.S.E. program, campers will be given an opportunity to take on more responsibility, while developing a greater sense of independence. The program will also build confidence and self esteem while focusing more on developing each camper's skills and expertise in the various camp activities. So how will Kettleby Valley accomplish these goals?
To begin with, the counsellors will go into greater detail when it comes to the activities. Currently, when a camper visits the high ropes course they are taught skills in climbing, along with the basics behind belaying and putting on the equipment. In addition to these skills, the R.I.S.E. program will provide the additional time necessary to teach campers how to set up the ropes for climbing, how to conduct safety inspections and how to belay from their harnesses. The R.I.S.E. program will also give campers the chance to choose some of the activities in which they take part. This will provide them with added responsibility for their daily schedule and foster independence.
Most of the staff were once campers at Kettleby Valley. When it comes to being a successful staff at camp, responsibility, independence, skills and expertise are invaluable qualities and these are the core values that the R.I.S.E. program instills. The experience will be a great stepping stone towards becoming a Leader-in-Training and eventually a staff member at Kettleby Valley. And based on the response so far, the program is going to be a great hit with both parents and campers alike.
Kettleby Valley is an Ontario summer camp and outdoor education centre located north of Toronto. They provide both day camps and residential overnight camps to families all over York Region. Families from Aurora and Newmarket have made Kettleby Valley their choice for years. For more information, please contact the camp at 905-726-4275 or go to their website at http://www.kettlebyvalley.com.