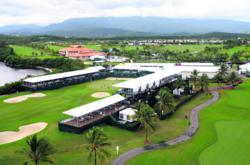 Puerto Rico Does It Better
San Juan, Puerto Rico (PRWEB) March 11, 2012
World-class golf destination Puerto Rico offers PGA players a winter respite when it welcomes back the Puerto Rico Open for its fifth year at the Trump International Golf Course in Rio Grande. Presented by SeePuertoRico.com, this year's tournament will be especially memorable because it will honor legendary Puerto Rican golfer Chi Chi Rodríguez, who will play his final official round on the tournament's last day.
The Puerto Rico Open, part of the PGA Tour FedEx Cup, hosts professionals from March 5-11 in balmy 80-degree weather with cool ocean breezes. On Sunday, March 11, Rodríguez will play 18 holes prior to the field's teeing off. He will also be honored during the Awards Ceremony following the tournament.
In addition to Rodríguez, notable golfers participating include Michael Bradley, Derek Lamely, Angel Cabrera, Boo Weekley and fan favorite John Daly. This year, more than 100 Tour members will challenge defending champion Bradley for $3.5 million in prize money at the internationally recognized event.
"Puerto Rico truly does golf better, with more than 23 golf courses, plentiful tee times, magnificent natural settings and luxurious golf amenities," said Mario González-Lafuente, Executive Director of the Puerto Rico Tourism Company (PRTC). "With world-class champion quality courses and the only PGA tournament in the Caribbean, Puerto Rico is arguably a golfer's paradise."
The Puerto Rico Open combines an official PGA Tour competition with pre- and post-cultural experiences unique to the Island. Drawing upon its rich history, savory cuisine, vibrant culture and spirited people, tournament organizers have arranged a full schedule of activities that include a 5k run to benefit the Auxilio Mutuo Centro de Cancer; a children's golf clinic run by Chi Chi Rodríguez; a fashion show/bazaar; BBQ competition and outdoor festival with music and crafts.
Puerto Rico boasts one of the most storied histories in the Caribbean for golfers. Between 1960 and 1966, Robert Trent Jones, Sr. designed and built the Dorado Beach East and West courses on Puerto Rico. More than 40 years later, in 2007 the Bahía Beach Resort and Golf Club opened its own course designed by Jones, Jr. Chi Chi Rodríguez inaugurated his own El Legado Golf Resort in 2004 in southern Puerto Rico with stunning views and adventurous play. Other designers whose work graces Puerto Rico's rolling hills and vales include Greg Norman, Gary Player, Tom and George Fazio, Rees Jones and Arthur Hills.
For more information about the tournament, visit http://www.gotopuertoricoopen.com. To learn more about the beautiful beaches, art, culture, food, casinos, and golf in Puerto Rico, call your travel professional or visit SeePuertoRico.com.
About The Puerto Rico Tourism Company
The Puerto Rico Tourism Company (PRTC), founded in 1970, is a public corporation responsible for stimulating, promoting and regulating the development of the tourism industry. It markets Puerto Rico as a tourism destination through advertising, public relations and promotional activities; promotes tourism among local residents; provides visitor orientation and technical assistance to investors; evaluates tourism facilities and establishes standards of quality; and regulates and oversees gaming operations. PRTC has offices and representatives in the U.S. mainland, Canada, Europe and Latin America.