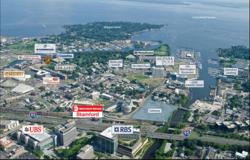 Stamford, CT (PRWEB) March 11, 2012
The ongoing success of Harbor Point continues to have a strong positive economic impact on Stamford, creating of thousands of new jobs as the South End undergoes its remarkable transformation from abandoned industrial sites into a vibrant new mixed-use community.
"As Harbor Point's new buildings have risen, dozens of new businesses have opened and hundreds of new residents have moved in. This has brought approximately 2,000 full-time jobs to Stamford so far, along with thousands of construction jobs since the project began," reports Carl Kuehner III, CEO of Building and Land Technology, the Stamford-based real estate developer of Harbor Point. "On top of these, additional jobs have been supported or created from the influx of new business tenants and residents who are now a part of Stamford."
Stamford Mayor, Michael Pavia, also notes the significant impact of Harbor Point on the City's economy. "In the midst of the worst economic downturn in 50 years, BLT's development of Harbor Point has been an essential component of Stamford's economic growth and strength. The size and scope of the Harbor Point investment make a compelling statement – Stamford is open for business. Clearly, it remains the pre-eminent place for the growth and development of businesses and is one of the most attractive destinations to live and work on the east coast."
Construction jobs have been generated not only by Harbor Point's new commercial and residential buildings, but also by the construction or rebuilding of the much of the South End's streets and utility infrastructure, all done at no cost to the City. The fees and additional tax revenue generated by Harbor Point have also had a positive financial impact in reducing the tax burden on Stamford taxpayers.
Harbor Point has attracted a wide range of new office tenants to Stamford including Starwood Hotels & Resorts Worldwide, Design Within Reach, Louis Dreyfus Highbridge Energy, and the U.S. Government. Starwood Hotels & Resorts alone brought over 800 new jobs to Stamford. Eleven new retailers have become part of Harbor Point in recent months, including Connecticut's only Fairway Market, Dinosaur BarBQue, Exhale Spas, Walgreens, Le Pain Quotidien, First Niagara Bank, Design Within Reach, Harlan Social, Robek's, and Go Green Dry Cleaners. All of these new office tenants and businesses are helping to create a diverse economic base for Stamford and an enormous number of jobs in a variety of sectors.
A tremendous opportunity for the Stamford job market, the opening of Fairway Market in Harbor Point created approximately 450 new positions at this one-of-a-kind, industry-leading specialty and traditional grocer. At nearly 85,000 square feet, the Connecticut store is the company's largest to date and includes a wine and spirits store, a full kitchen, an 80-seat café, and a wide variety of specialty departments. "The jobs created here include not only stock clerks and cashiers, but also butchers, bakers, chefs, and other skilled positions that we provide specialized training for," reports Aaron Fleishaker, Fairway Market's Senior Vice President of Real Estate and Construction. "Fairway is a fully unionized employer offering great benefits. We're very loyal to our staff, and as a result, our employees stay with us for a long time, often being promoted to higher-level positions within the company. Some of our current managers started out as hourly employees in our stores."
Numerous job fairs were held at various local venues as part of Fairway Market's hiring process. Most of the new positions created at Fairway were filled with residents from in and around the community. Over 200 were filled in collaboration with non-profit community-based agencies including CTE that have developed networks with area businesses to connect them with low-to-moderate-income local residents who are qualified job candidates, often working with clients who are transitioning from public assistance to viable jobs.
"Harbor Point has given an enormous boost to Stamford's economy, especially in this formerly underserved part of the City," said Treva Franks, Director of Workforce Development at CTE. "The unprecedented job opportunities it's created have done so much for the community." Ms. Franks has worked to build strong, lasting relationships with Harbor Point businesses including the new Fairway Market, for which she helped coordinate three job fairs. Having worked with CTE since 2007, she sees Harbor Point's success all the more remarkable in light of the significant economic challenges and job losses faced around the region and the nation. Adds Ms. Franks, "Harbor Point has redefined the City."
Wendy Champeix, Director of Employment and Education Services at Laurel House for the past twelve years, also notes the key contribution of Harbor Point to Stamford's job growth, particularly in its creation of diverse career opportunities outside of the financial industry. "What Harbor Point has been able to accomplish is amazing," said Ms. Champeix, "growing and bringing in new businesses and jobs – so much is happening there. Stamford is really the only city in Connecticut that has been able to grow continually, and Harbor Point has been an integral part of that. The difference is clearly visible here, while other cities in the state struggle with abandoned buildings and properties."
She also sees the importance of job creation in conjunction with the creation of quality housing, which has made Harbor Point such an important catalyst for positive change in the area. "That's something for everyone to be thrilled about." She looks forward to continuing to expand a job placement network with Harbor Point businesses – meeting with business owners, collaborating with other agencies, and holding job fairs.
With new businesses arriving at Harbor Point all the time, the continuing contribution to Stamford's job growth remains assured in this thriving new community which has already become a resounding success and an integral part of the City.
About BLT
A second-generation real estate development company, Stamford-based Building and Land Technology (BLT) has completed ventures worth more than $3 billion including over 4 million square feet of commercial development and 4,000+ residential units. BLT trophy properties host the headquarters for Starwood Hotels & Resorts Worldwide, Gen Re, GE Commercial Finance, Diageo, GE Real Estate, Xerox, GE Energy Financial Services, IMS Health, Hewitt, Cornell University Veterinary Specialists, Design Within Reach, and Louis Dreyfus Highbridge Energy. BLT's numerous office parks, apartment complexes, single family subdivisions, common interest communities and adaptive reuse projects total in excess of 8,000,000 square feet of development throughout Fairfield County. BLT is the developer of Harbor Point, one of the nation's largest redevelopment projects – http://www.harborpt.com.
BLT is led by brothers Carl & Paul Kuehner, who have worked closely together for more than 20 years. Carl serves as Chief Executive officer, while Paul is the President of BLT. BLT has a vertically integrated multi-disciplinary team that can take on every aspect of a complex project, and includes experts in planning, entitlement, design, construction, leasing, management, marketing and finance.
About Harbor Point
Harbor Point, Stamford's most dynamic neighborhood, connects the City to its revitalized waterfront and acres of newly developed parks. Home to the unique apartment communities 101 Park Place, the Lofts at Yale & Towne, and The Lockworks, as well as several projects currently in development, Harbor Point is bustling with nearly 1,000 new residents. Together with their diverse and growing population of residents, Harbor Point has seen an influx of both large and small commercial and retail tenants including Connecticut's first Fairway Market, Starwood Hotels and Resorts Worldwide, Design Within Reach, Cornell University Veterinary Specialists, Louis Dreyfus Highbridge Energy, Go Green Dry Cleaners, Robeks Premium Fruit Smoothies, First Niagara Bank, exhale Spa, Dinosaur Bar-B-Que, and more. Harbor Point has been awarded LEED Gold Status for leadership in environmentally-friendly neighborhood design. Visit http://www.harborpt.com to find out more.