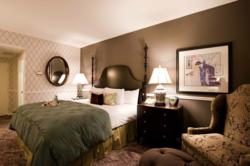 We don't want gas prices to be a deterrent to a great getaway.
Newport, Rhode Island (PRWEB) March 13, 2012
With gas prices rising faster than the temperature, Hotel Viking is offering a Gas Rewards Package that fuels fun with a 10% discount on accommodations, breakfast daily for two and valet parking. Savings can add up to $100 per day depending on room type booked. For more information on Hotel Viking's Gas Rewards Package, which is valid through September 2012, please visit http://www.hotelviking.com or call 401-848-4800.
'We don't want gas prices to be a deterrent to a great getaway," said Marlen Scalzi, Director of Sales and Marketing for Hotel Viking, "With Boston just 70 miles away and New York about 170 miles away, the savings help ease the pain of increasing fuel costs."
The historic Hotel Viking features 209 luxury guest rooms, gourmet dining, a full-service spa and more. Weekend rates start at $239 and weekday rates start at $189, double occupancy, for a standard room. A member of the Historic Hotels of America and the first Green Certified hotel in Newport, Hotel Viking has been awarded "Best Accommodations" by Newport Life magazine, the 2012 Bride's Choice Award for Venue & Reception as well as the Platinum Choice Award from Smart Meetings Magazine.
"The town of Newport offers wonderful places to discover in the Spring," stated Marlen Scalzi who was born and raised in Newport. From joining a tour of the historic mansions of Newport to sailing with the America's Cup team, activities range from educational to adventurous. Bookstores, libraries, shops and art galleries are all within walking distance from Hotel Viking.
"For the month of March 2012, our guests enjoy a 10% discount when they show their key card at Green Envy Eco-Boutique," said Scalzi, who says Hotel Viking partnered with Green Envy Eco-Boutique because the store features eco-friendly, fair-trade or organic products including clothing, jewelry and skin care. "There is a lot to discover in Newport and with the special savings, Spring is a spectacular time to visit." For more information on events, attractions and sites of Newport, visit the Newport Visitors Bureau at http://www.goNewport.com.
About Hotel Viking
Hotel Viking is a historic hotel located in Newport, Rhode Island. Hotel Viking offers a total of 209 guest rooms and suites, and 13,400 square feet of event space, including two ballrooms. The award-winning One Bellevue Fine Dining & Seafood Restaurant offers indoor and patio dining, a seasonal roof top lounge, all-day lounge and a renowned Afternoon Tea held daily. SpaTerre features a selection of massage and skin treatments. Additional amenities include an indoor heated pool, fitness center and the historic Newport Kay Chapel. Hotel Viking is a 30-minute drive from TJ Green Airport (27 miles) in Providence and the Providence Train Station, and is driving distance from Boston (70 miles) and New York City (170 miles). For information, please contact Hotel Viking 401-847-3300 or visit online at http://www.hotelviking.com.
###