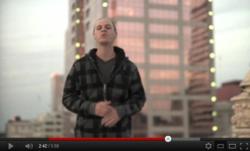 Miami, FL (PRWEB) March 12, 2012
Hip hop artist J Burns recently released the official video for his single "I Suppose" from his upcoming album. Coast 2 Coast Video Distribution presents the video, which was directed by Beejan Iranshad, in association with Green Luck Music Group.
J Burns started doing music about 8 years ago while he was a student at Western Oregon University. While it was more of a hobby for fun at that point, it was when he returned to his hometown of Portland after graduating that it began to be a more serious pursuit. He has spent the past couple of years working on his album 60 Hours of Freedom while holding a full time job and raising his 7-year-old daughter. Burns says that his inspiration is simply to make great music, spreading his personal message to people and making his own lane within the industry.
"I Suppose" is one of the first two singles from his upcoming album, which will be released March 30, 2012. The video was shot and directed by Beejan Iranshad and Green Luck Music Group (GLMG) around downtown Portland on rooftops and at Green Luck Studios.
"I Suppose" is available to view at http://www.youtube.com/watch?v=D9abGh6dWuE&feature=youtu.be