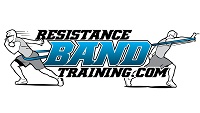 All kinds of athletes benefit from resistance band training.
Elizabethtown, KY (PRWEB) March 09, 2012
"The Band Man" Dave Schmitz and his company Resistance Band Training Systems has just released a series of resistance bands available through Amazon.com. The bands come in pairs and offer different levels of resistance.
Fitness professionals cite properly taught resistance training as one way to build athletic ability and prevent injury. "All kinds of athletes benefit from resistance band training," said Dave Schmitz, a resistance band expert with a background in physical therapy.
Schmitz, recently named one of the 100 Most Influential People in Health & Fitness, has decades of experience training athletes with resistance bands. His company, Resistance Band Training Systems, sells bands, band workouts, and other training products.
Schmitz attends lectures and hosts coaching weekends where he teaches trainers on the proper use of resistance bands. "Resistance bands are an incredibly useful tool to add to a strength training program. They incorporate different types of forces and motions than are possible with just weights."
Resistance band training has its origins in injury rehabilitation. Schmitz stands by the use of resistance band programs for both their effectiveness in boosting performance and preventing and treating injuries.
This aspect of bands is important, especially for younger athletes. According to a recent study in Current Opinion in Pediatrics, over 4 million sports related injuries happen to school age children in the U.S. every year.
To address these injury concerns, Schmitz suggests looking to the benefits of training with resistance bands. "The bands we offer come in different sizes and levels of resistance, allowing for different ranges of motion for people of different sizes and abilities."
No matter what the age of the person using the bands is, the Band Man suggests tailoring band workouts to your strength and ability level.
"One of the biggest problems I see is when trainers have their clients train with bands that are simply out of their skill range," Schmitz warns. "Band workouts are safe and effective, but you have to use common sense and understand your own body's abilities when starting out."
The band packages released by Resistance Band Training Systems come in pairs. They come in different resistance levels from micro through XXL. There is also a utility strap available for connecting bands to different objects and supports.
While resistance bands can build strength alone, they often work in tandem with a weightlifting program. Schmitz explains, "Weights build strength, but resistance band workouts get you to work with acceleration through different planes, like you would do in sports situations."
"We hope these new resistance bands will provide people with a great introduction to training with resistance bands," Schmitz said.
The resistance bands are available now on Amazon.
About Dave Schmitz: Dave Schmitz is the Co-Owner of Resistance Band Training Systems, LLC and the creator of http://www.resistancebandtraining.com, the only website exclusively devoted to training with large continuously looped resistance bands.
Resistance Band Training Systems, LLC is part of the Fitness Consulting Group family of companies. It is the leading resource for resistance band training. RBT offers education on resistance band training, hosts live events, and offers a training certification and other products.
###