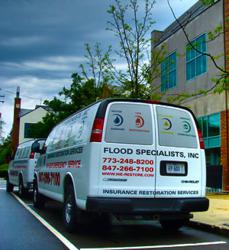 The spring of 2012 looks to bring higher than normal severe weather over the Midwest.
Chicago, IL (PRWEB) March 09, 2012
Spring is almost here and Flood Specialists, Inc. expects to receive an increased number of phone calls from Chicago homeowners about basement flooding due to sump pump failure. Some things never change. "It's like clockwork", says Mario Majewski, General Manager of Flood Specialists, Inc. "You know when spring has arrived because the phones won't stop ringing", he said.
Chicago residents will turn their clocks forward one hour at 2 a.m. on March 11, 2012. Like most people, they will go about their normal routine except maybe go to bed one hour earlier so they are not so groggy the following morning. However, their routines should be modified this year says Flood Specialists. "People need to be reminded to perform basic maintenance to their homes. Most people forget, some do not know how, but everyone needs to maintain their home. Why not make it part of the Daylight Savings Time routine?" says Mario.
We all have to set our clocks twice every year. Spring is when we set our clocks forward, and in the autumn, we set them back. This perfectly coincides with when you should check your home before the rainy season and snow season. In the springtime, homeowners should check and test their sump pumps if they have them. Remember to inspect the sump pump basin for debris and ensure the float mechanism is working. Examine the 'Check Valve' if you have excessive sump pump activity and replace it if warn out. In addition, check to make sure the sump pump is turning on and off by running water into the pit basin. Lastly, check for leaks from the plumbing.
According to AccuWeather.com, "the spring of 2012 looks to bring higher than normal severe weather over the Midwest". If the recent severe weather is any indication of what Chicago should expect, we're in for a bunch of rain that will cause wide spread basement flooding if people are not prepared. Other helpful tips include:

Examine the landscaping around the house. If your yard does not slope away from your home, rainwater probably accumulates at the base of your home and drains down into your basement. You can add top soil around your house until you have a nice slope, but this is only a temporary solution that will wash away with one rainy season. A professional landscaper who understands drainage should handle this so it lasts.
Make sure you connect your down spouts to underground pipes to lower areas away from the foundation. If you do not have underground pipes, make sure the water drains far away from your foundation as possible.
Check your hot water heater and exposed plumbing for leaks. Check the floor under the expose plumbing for discoloration. This is a good indication that you have a leak.
Another good idea is to program the Flood Specialists telephone number into your cellphone. When severe storms pass through Chicago, power outages can occur, leaving people without Internet connectivity or phone service. By having their phone number with you, you can get the basement flooding under control and restoration process started before excessive damage begins.
About Flood Specialists, Inc.:
Flood Specialists, Inc. is one of the largest providers of Water Damage Restoration services in Chicago, IL and surrounding communities. They are IICRC certified and maintain an A+ rating with the Better Business Bureau. Visit http://water-damage-specialists.com for more information on water damage, or follow us on Twitter at @h20damageRepair.