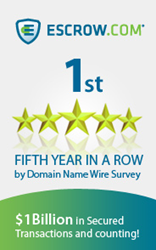 Escrow.com continues to be the most popular escrow service in the domain name industry.
Rancho Santa Margarita, California (PRWEB) March 12, 2012
The seventh annual Domain Name Wire Survey results are in and for the fifth year in a row domain investors choose Escrow.com as their escrow service of choice. While earning an astounding 60% of the votes this year, the company continues to prove itself as the leader in domain escrow services.
The survey, presented by Domain Name Wire, a leading news source for the domain name industry, had over 1,000 participants from 79 countries. Respondents were given the opportunity to voice their opinion about the state of the domain name industry and its service providers. "Escrow.com continues to be the most popular escrow service in the domain name industry" says Andrew Allemann, Editor at DomainNameWire.com. He adds, "This year they hit a new high and continue to outpace the competition year after year."
Based on industry published information, Escrow.com estimates they have managed well over 50% (in dollar volume) of the domain name aftermarket transactions in 2011. "Each year our numbers continue to grow, 2011 showed an increase of 29% over 2010. The domain name aftermarket is now in the hundreds of millions of dollars and we will continue to be an integral component of providing safety and security to this industry" says Brandon Abbey, President and General Manager at Escrow.com. He adds, "As transaction fraud continues to be a worldwide concern, you'll see more major names in eCommerce joining Go Daddy, Cars.com, Flippa.com, AutoTrader and eBay Motors recommending that consumers use our transaction settlement services."
About Escrow.com
Headquartered in Rancho Santa Margarita, CA, Escrow.com, a privately held company, has pioneered the process of online escrow services. The Company, founded in 1999 by Fidelity National Financial, has established itself as the leading provider of secure business and consumer transaction management on the Internet. All escrow services offered on this Website are provided independently and exclusively by Internet Escrow Services(SM) (IES), one of the operating subsidiaries of Escrow.com. IES is fully licensed and accredited as an escrow company and is subject to compliance with all applicable nationwide escrow regulations.