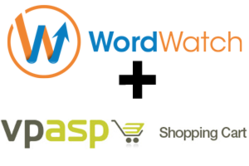 Our service is something that a lot of online storefronts can use, we can't wait to serve them
San Jose, California (PRWEB) March 12, 2012
WordWatch has officially become a partner with VP-ASP, a shopping cart service serving over 55,000 businesses across the world since 1999. The partnership will give small businesses and e-stores the ability to integrate AdWords bid management to their current advertising for more potential customers and sales.
"We're happy to partner with a company like VP-ASP because they've established a strong presence and maintained their status as a top shopping cart solution for so many years," Todd Wilkinson, CEO of WordWatch, said. "Our service is something that a lot of these online storefronts can use, we can't wait to serve them."
WordWatch is the first search engine marketing company to partner with VP-ASP, a global e-commerce solution available in 20 languages and compatible with any currency.
About WordWatch:
Founded in 2009, WordWatch is an online AdWords bid management application designed for small business advertisers, marketing consultants and freelancers, and small agencies. The application simplifies the daily management of keyword bids and constantly optimizes a customer's AdWords account. WordWatch has offices in San Jose, Amsterdam and Krakow.
Related Links
http://www.wordwatch.com
http://www.vpasp.com/virtprog/vpasp_partners.htm