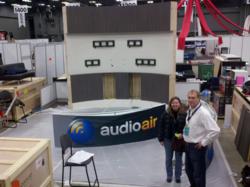 "...The fact that it is also a highly effective way for a Sports Bar and Restaurant owners or Casinos or others to interact with their customers before, during, and after they leave the premises is what makes it a breakthrough product."
Dallas, Texas (PRWEB) March 11, 2012
Durango, Colorado based Airborne Media Group, Inc. ("Airborne") announced today that it will participate this coming week in two national tradeshows from March 12, 2012 through March 16, 2012. Airborne will showcase its new groundbreaking audioair™ technology at the South by Southwest Interactive, March 12-16 at the Austin Convention Center at booth numbers 1143, 1145, 1242 and 1244. March 12- 14, 2012, Airborne will also participate in the Nightclub and Bar Convention and Trade Show in Las Vegas, Nevada and will exhibit audioair™ in booth number 307 at the Las Vegas Convention Center. Airborne exhibit teams including senior management will provide Facebook, Twitter and Tumblr live updates from both convention floors.
Airborne's unique Audioair technology permits mobile device users to privately listen in to television displays deployed in Sports Bars and Restaurants, Casinos, Cruise Ships, Airports, Athletic Clubs—anywhere a television has its volume muted for noise level considerations. A mobile device user downloads the free mobile application from the App Store or Android Market, which interfaces with the Audioair system installed at the participating establishment. Once connected, the end-user then activates the application to selectively listen to televisions on the premises that have been muted. The Audioair Application also provides for highly targeted advertising on a local, regional and national basis, and also provides a number of interactive social media functions including an internal chat feature and Facebook check-in.
Cordell Brown, Airborne Media Group's CEO stated, "These two important exhibitions coming in the same week are a logistical challenge for us, but we're ready to tell the world about our exciting new technology".
Mr. Brown added, "If all Audioair could do was permit people using Smartphones to hear what they've been missing by making it possible for them to selectively listen in to muted televisions in their favorite venues, it would be a great product. But the fact that it is also a highly effective way for a Sports Bar and Restaurant owners or Casinos or others to interact with their customers before, during, and after they leave the premises is what makes it a breakthrough product."
Airborne intends to make a number of major announcements from the floor of the two trade shows, including the roll-out of it new nationwide Partner distribution system, the commencement of its highly targeted local, regional and national advertising network and the launch of Airborne in a number of geographic markets.
Airborne Media Group, Inc. is a privately held corporation founded in 2010. Its newly invented technology is designed to deliver an entirely new entertainment, news and information distribution experience by permitting the users of smart phones to privately listen in to televisions in all types of venues where they must be muted for noise considerations. The company has created and is expanding a team of strategic and technical partners, as well as a new sales distribution system to further develop its technology and achieve its ambitious sales and marketing goals.
Airborne Media Group and audioair™ are trademarks of Airborne Media Group, Inc. in the United States and/or other countries.
The names of actual companies and products mentioned herein may be the trademarks of their respective owners.
For more information, press only:
(Daries "Chip" Lile, Executive Vice President),
(970.749.2785), (chip(at)airbornemediagroup(dot)com)
For more information on Airborne Media Group, Inc.
http://www.airbornemediagroup.com/
http://www.audioair.net/