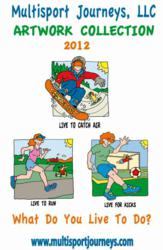 our mission is to help people be active and to enjoy the outdoors by celebrating a well-rounded approach to life and sports
Ridgway, CO (PRWEB) March 14, 2012
From high finance to high fun, Multisport Journeys, LLC (MSJ) founder Sue Field tells Joana Canals, nationally certified fitness instructor and co-host of KWGN TV's Colorado's Best, that the Company's mission is to help people be active and to enjoy the outdoors by celebrating a well-rounded approach to life and sports. On the show, Field shares that, "I did not always have balance in my life but after having health issues I decided to live the dream and opt for less stress and more fun. At Multisport Journeys we challenge people to really consider, what do you live to do?"
Field created Multisport Journeys after deciding to throttle back from a high-powered career that included C-suite tours of duty on Wall Street as well as at the likes of Sears, Roebuck and Vitamin Cottage Natural Grocers. Settling into a more tranquil life in the heart of Colorado's spectacular San Juan Mountains, Field explained the apparel line is a prequel to a series of active travel guidebooks she intends to write and publish that will be aimed at Boomers and Beyond. "MSJ is multi-generational, but in particular we want to help families introduce kids to an active and healthy lifestyle at an early age. Our mantra is "Live To Play Another Day ®", which we believe applies to all age groups", Field continues.
MSJ offers a continuum of casual to technical adventure apparel that encourages sports enthusiasts to create shirts, fleeces and hats that proclaim their love of the outdoors and the sports that are their passions. The company's ever-expanding art library, created by Field's brother and award-winning San Diego-based artist Jeff Field now totals more than 70 sports and travel images representing everything from mainstream to niche adventure sports activities.
The Company's online shopping portal http://www.multisportjourneys.com, lets consumers create custom wearable art and accessories by mixing and matching single, triple or quadruple groupings of the Company's art depicting a wide array of sports and outdoor activities. The resulting design can then be printed, lasered or embroidered in the USA onto a choice of cotton or high performance wicking T-shirts, sweatshirts, hats, fleeces and mugs. MSJ's products are available in men's, women's, youth and baby sizes and styles.
About Multisport Journeys. Founded in 2009 in the heart of Colorado's San Juan Mountains, Multisport Journeys allows consumers to express their sports and travel passions on tees, polos, fleeces, baseball caps, snow beanies, mugs & totes. For further information visit the Multisport Journeys website http://www.multisportjourneys.com and facebook page http://www.facebook.com/multisportjourneys.