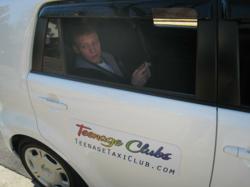 Our Service is Relief & a Safe Alternative
Nassau County, NY (PRWEB) March 11, 2012
Invincible, multi-taskers, with a seemingly never ending thirst to be connected to each other, the newly dubbed "Always On" generation. Taylor Sauer, the teen from Idaho who died in January because she was posting on Facebook while driving knew right from wrong. It wasn't a lesson that she needed to learn. She even posted about it minutes before her crash. She was just being a teenager. They are these full of life people, who are far too young, too unaware and too under-developed to be allowed to choose to drive home alone, late at night, on a four-hour drive. Even though they look and sound like adults it's so important to remember that they are still developing children. The mature, well developed, less invincible adults who have learned just how fragile human life is, must still make decisions for this vulnerable segment our population. Parents must decide the conditions under which a teenage child will drive, especially if we want to see aspiring, intelligent children like Taylor Sauer grow up and add to the development of our society.
An alternate form of transportation like the services provided by the Teenage Taxi Club Inc. is a viable option for a persistent problem that is simply intolerable. Although a taxi service may not have been the most practical alternative for the Sauer family,Taylor Sauer engaged in behaviors that teenagers do every single day. The Teenage Taxi Club Inc. was created by a mom to provide parents and teens with another commute option. Parents sign their teens up to be members, thereby giving the parent the ability to call 1-888-39TeenTaxi or go on-line at http://www.teenagetaxiclub.com to schedule a commute for their teenager.
Teenage Taxi Club Inc. is really about relief; relief targeted to parents who worry about that grim statistic, spouting how vehicle accidents are the number 1 killer of teens in this country. Parents are also relieved from the many back and forth chauffeur trips made to the high school, the mall, practice etc. Teens get relief by just being able to "Be There".