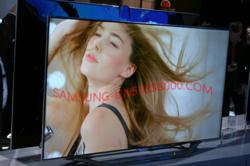 8 Train Sound System – And this is no locomotive!
Burbank, CA (PRWEB) March 12, 2012
Shred Editor Holdgren writes funny, crazy commentary on new 2012 high definition TV models with a lighthearted, easy to read angle that is enjoyable to read. Some of the new reviews focus on top end models with unusual features such as the Magic Remote from LG and the Smart Interactivity feature included on the top Samsung models which allows users to "speak" to the TV or use hand movements for control.
As on example, in the Panasonic TC-P50ST50 Review, Holdgren writes, "8 Train Sound System – And this is no locomotive! This new system does a fantastic job of "lifting" the sound to the front center of the screen. This is done through some new for 2012 lifting drivers. 3D sound is also especially enhanced and excellent. This is such a great improvement." And in another Panasonic review of the Panasonic TC-L50DT50 he comments, "Clear Panel Pro Screen Technology – Blacks like the night sky in December! It's the clear panel pro's responsibility to make sure Blacks are very deep by using a filter that suppresses external reflections thereby allowing the screen to display better black levels."
"I like to make reviews fun to read," states Holdgren. "If they are not fun, people will get bored and not read much of a review – there are plenty of boring product reviews out there. I wanted to do something different."
Some of Holdgren's commentary on the Samsung UN55ES7500 reads like this, "Oh This TV is HOT looking! Window Effect. Just as with the ES8000 top line the ES7500 is Hot in Appearance! This TV has a super thin presence of only a little over an inch whilst the side frame is but .2 or .3 inches in width. There is that small camera perched atop to add a little height there but you really do not notice it. You almost cant even see the frame on the TV all you notice is the picture that's on screen.
Features commentary on the LG 55LM6200 is reviewed as followed, "Is there True Magic in the Remote Control?! I think so. It is one of my favorite features in all TVs and the LM62000 comes with it. Its a point and click wand type device with a funny shape. But it works very well and I find that web browsing is much faster with this remote control that with a standard remote control. It's also very nifty at accessing the Online Content." Holdgren also writes similar types of article commentary in other reviews of HDTVs such as the Sony KDL-55HX850.
Shred Reviews and Holdgren review and write commentary about Televisions, Blu-Ray players, Home Theater Surround Sound Systems, Movies, and many other electronics devices. Holdgren has been reviewing these types of devices for over 10 years. Shred Reviews began operations in late 2010 and Holdgren is based in Burbank, CA.