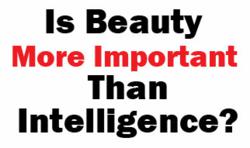 Is Beauty more Important than Intelligence?
(PRWEB) March 12, 2012
While many rush to find the quickest way to turn beautiful using the latest creams and applications a digital expert has his hand on the world's pulse in hopes of finally answering, "Is beauty more important than intelligence?"
As Kishore shared, "After visiting hundreds of forums that discuss the important of looking good to get better jobs and more income, I was inspired to do a survey on the topic to see how online users feel about this growingly important topic."
"It is also amazing to see the number of books that are coming out every year about the topic of beauty and its importance for advancement in the workplace." Kishore continues, "A peek at Amazon.com or a stroll through your local bookstore will show you the growing interest in beauty and beauty enhancement products."
From "Beauty: The Invisible Embrace" to "Beauty: A Retelling of the Story of Beauty and the Beast" and "The Truth About Beauty: Transform Your Looks And Your Life From The Inside Out," we have seen a number of books on the topic. But it was the Crowd Sourcing book that gave Dharmarajan the idea of getting large groups of people to supply accurate answers. Kishore added, "That's when I decided to use the power of the Internet to literally ask the world if they believed it was possible to get ahead in life by simply being beautiful than intelligent."
Kishore also revealed another reason for taking his beauty quiz to the world. "I have seen countless videos that sell the dream of instant beauty. Most of these are not genuine videos and are created by shady characters who try to dupe honest folks. Instead of railing against these be beautiful-quick videos, I decided to turn tables and ask online users about their own experiences."
Utilizing sophisticated database technology as part of his role as an Internet expert, Mr. Kishore will publish the answer to "Is it possible to make money online" once responses to his beauty quiz have been tabulated from around the world.
Kishore encourages people of all countries to take the beauty quiz. Respondents will be added to a special notification list alerting respondents when survey results are published. The survey, and the details of the participation, can be viewed at rosybeauty.com
Several online newsletters have publicized the beauty quiz. Mr. Kishore hopes to make world news of a more inspirational kind when he has the answer in hand.
To submit answers to the question, "Is beauty more important than intelligence?" and register to discover the collective responses when results are made available, visit the beauty survey or reach Kishore Dharmarajan directly at (0097150) 698-6164.
About:
Kishore Dharmarajan is the author of Sniper Marketing and a trusted authority on Social Media Marketing and Digital Marketing. Besides Sniper Marketing, Kishore Dharmarajan has published several books including Google Adwords Management Secrets, Eightstorm: 8 Step Brainstorming for Innovative Managers, Beyond Guerrilla Marketing, How to Think & Innovate Like Steve Jobs and has spoken in front of thousands on such topics as Social Media Marketing and Digital Marketing.