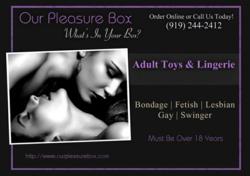 Add something to that special pleasure box to fulfill those fantasies, dreams and wishes?
Nationwide (PRWEB) March 12, 2012
Welcome to Our Pleasure Box. Our Pleasure Box is a new adult sex toy site. The challenge is to to ask "what's in your box?" Communication is an extremely important key to a great relationship. Talking to a significant other to find out what tickles his or her fancy to explore and spice up the bedroom is a key ingredient to a successful sexual relationship. Fill that special pleasure box with tantalizing oils, edible underwear or romantic candles. Discover anticipating toys, play erotic bondage games, play dress-up or just enjoy each other with a nice massage. Find that special item of lingerie, or something fun for the shower. The physical part of a relationship is just as important as communication. It is important to try new things in a romantic relationship and Our Pleasure Box wants to offer those same avenues to others. Our Pleasure Box offers a little bit of everything and something for everyone. There are products that appeal to many different people; such as lesbians, the gay community, swingers, transgender, and to those looking for special fetish items.
In order to achieve a comfortable experience, Our Pleasure Box offers quality top manufacturer items; such as Lelo Pleasure Objects, Adam and Eve, California Exotic Novelties, Digital Playground, Doc Johnson, Evolved Toys, Fun Factory, Grrl Toyz, Penthouse and SportSheets. Our Pleasure Box helps make the bedroom fun, and adds an additional dimension to the connection between two people. Our Pleasure Box created a beautiful, friendly, easy to use site to help make dreams and fantasies come true. Sex is a beautiful thing. Sex is a natural thing. Sex is a topic of that should always continue to be discussed between two people. A conversation may lead so fun and adventures that will not be forgotten. Enjoy it….. no need to be ashamed!
Our Pleasure Box website is kept fresh and updated; placing popular items on sale on a regular basis and offer competitive pricing. New products and top selling items are kept updated. Free shipping is available for orders over $59. Sign up for the newsletter and receive 10% off the order. The ultimate goal is to ensure customers are satisfied. Our Pleasure Box offers customer support to to assist in finding that special product. With over 11,000 products that will not be a problem, no matter what that may be. Fill that special pleasure box with quality products that can help enhance the sex life. Please join the fun of finding that perfect addition to the bedroom. Nobody's box is the same…so "what's in your box?"
Use coupon code OPBNews and receive 10% off.