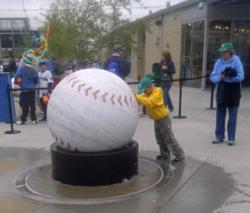 "The Finest Interactive Fountain You Can Own"
(PRWEB) March 13, 2012
For futher information and view of models and videos: http://www.topstone1.com
The centerfield playground is more active during home games at the Kansas City Royals Baseball Stadium. The addition of the world's first 4 foot Rolling Sphere Baseball Fountain adds much excitement. The 5000 pound baseball sphere turns by itself like a spinning baseball if left alone. Children and adults play with this unique interactive fountain at each home game. Kids take off their shoes, both parents and the kids spin the baseball and enjoy the excersize.
The perfectly round sphere the baseball floats on a thin layer of water and can be turned, stopped, rotated, all by hand. Kids look forward to playing with the baseball when they attend the home games with their parents. If other sports arenas are looking for more entertainment for their game attendees - this is the answer. Top Stone has developed a complete line of Rolling Sphere Sports Fountains. Basketball, Baseball, Soccer, Volleyball and Dimpled Golf Ball Sphere Fountains are now available wordwide in sizes from one foot to 6 feet in diameter sphere with choice of self-contained or centerpiece style bases in marble or granite colors - even with the etching of the world. We specialize in custom orders.
A three minute video click here can also be seen on the Top Stone website that further explains the technology and shows examples of self-contained, centerpiece with grating and/or pool fountain designs. 100's of video examples can also be viewed. The sphere can have the etching of the world where the sphere spins on its axis with the north pole going back to the north if left alone. Logo etchings on the different type self-contained base are also available.
The Rolling Sphere fountain can be totally interactive and can enhance Sports Complexes, City Parks, Hotels, Shopping Centers, Hospitals, Office Entries, Churches, Mediation Centers and Residences. Top Stone factory can ship worldwide and Top Stone can provide onsite final installation supervision, equipment, and drawings if needed. Top Stone offers phone, email, phone technical support and for small or large residential and commercial projects. Commercial models can be reduced down in size for homes for interior or outside fountain projects.
For futher information and view of models and videos: http://www.topstone1.com