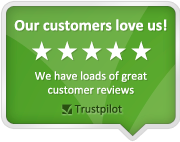 Listen to your customers, act upon their feedback!
(PRWEB) March 12, 2012
Handles4Homes have always prided themselves on their customer service. Having great direct feedback from their customers as a result of their 15+ years of experience in architectural ironmongery and their passion for putting the customer first.
Handles4Homes made the decision to partner a review site to gather feedback from their online customers.  Reviewing all available options, the decision was made to integrate with TrustPilot
The primary reason for the decision the level of exposure through the reviews being indexed in Google. This provides our feedback status in AdWords adverts and Google Product Search, giving new customers an immediate window into how our existing customers rate us.
Handles4Homes have already achieved a score of 9.5 (out of 10) on TrustPilot and view this as a great start and are very pleased with the results.
The combination of the new website and the active feedback from their customer base has really kick started Q1 2012.
The feedback has already highlighted a pain point for their customers, concerning the courier service they are using.  They have reacted quickly to this feedback and change is under way to improve this aspect for their customers.
Adam Copsey, Director commented:
"Without this valuable feedback from our customers, we wouldn't have really understood the issues that our customers were experiencing.  Looking at our expected growth over the next quarter. We knew this was something we had to address now, before our growth increases the effects of the issue impacts our customers to any greater extent."
"If any company is going to succeed in the online space, it is essential to listen to their customers and ensure that you act on the feedback. With the growth of any business it is easy to lose site of the essentials as your staff levels increase. This is why I make it policy that everyone within my organisation receives the feedback from TrustPilot reviews, whether it is good or bad feedback."
Handles4Homes: Handles4Homes are specialists in architectural ironmongery and part of Sitemaster Supplies Ltd. Providing architectural ironmongery to the online market, with a primary focus on door handles and door knobs.
Sitemaster Supplies: Sitemaster supplies have a collective 50 years of experience in architectural ironmongery. Being a preferred supplier to many of the uk construction industries leading development companies. One particular development project they are especially proud of, was to be the supplier to the re-development of the world famous Savoy hotel in London.
###