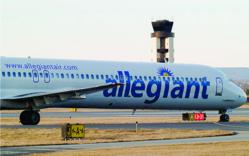 "Myrtle Beach is one of our top vacation destinations. Allegiant's nonstop flight from Lehigh Valley International Airport will provide easy access for travelers."
Allentown, PA (PRWEB) March 28, 2012
As the cooler months subside and summer vacation planning begins, Allegiant's flights to Myrtle Beach, S.C. will return to Lehigh Valley International Airport on May 3rd. Myrtle Beach boasts 60 miles of Atlantic coast beaches, entertainment and attractions for all ages and world-class golf courses, all much closer than Florida or Southern California.
"We are excited Allegiant plans to return seasonal service to Myrtle Beach on May 3, 2012," stated Charles R. Everett, Jr. Executive Director for the Lehigh-Northampton Airport Authority. "Myrtle Beach is one of our top vacation destinations. Allegiant's nonstop flight from Lehigh Valley International Airport will provide easy access for travelers."
Allegiant began service between Lehigh Valley International Airport and Myrtle Beach International Airport in May 2009. The service has been very successful – over 42,000 Allegiant passengers have flown between the two airports since the route began. The seasonal service to Myrtle Beach will start again on May 3, but travelers can already begin booking their vacations by going to allegiant.com.
With the price of fuel skyrocketing, a summer vacation seems farther out of sight for many families. Myrtle Beach, recently voted as one of the top ten Best Beach in the U.S. on TripAdvisor's 2012 Traveler's Choice Awards, offers a great summer vacation for the family on a budget.
"As the Myrtle Beach area of South Carolina only continues to grow in popularity, air travel is fast becoming one of the most convenient and affordable ways our visitors arrive," said Kimberly Miles with the Myrtle Beach Area Convention & Visitors Bureau. "We are excited Allegiant will once again be offering its summer routes to The Grand Strand and look forward to welcoming a new group of travelers."
Whether you are looking for a summer vacation for the whole family, or a weekend getaway for some rest and relaxation, Myrtle Beach offers a destination option that offers tons of entertainment options without breaking the bank.
To introduce the returning summer service, Allegiant will offer flights to Myrtle Beach as low as $67.99 each way and Allegiant has partnered with Caribbean Resorts and Villas, Breakers Resort and Long Bay Resort to offer customers 30 percent off room rates. This fare does not include checked bag fees or seat assignments, but does include taxes and fees. This sale will only be available to customers who book before March 31. Additionally, customers who purchase their air and hotel together receive $20.00 off of air travel.
"Myrtle Beach is one of our popular travel destinations because it really offers something for everyone," stated Allegiant Senior Vice President of Marketing, Michael Reichartz. "There is a buzz surrounding the area during the summer months with the warm weather, festivals and visitors from all over the world. With our low fares, hotel and car rental partnerships, we are happy to give Lehigh Valley travelers access to a great vacation on the South Carolina coast."
Not sure where to start? Allegiant offers these tips for travelers looking to plan their Myrtle Beach vacation:
Where to Stay
There is no doubt you will want to be where the action is – Ocean Blvd. Running just alongside the beach front properties and attractions of Myrtle Beach, hotels and resorts offer visitors the beauty of an ocean view, while being convenient to attractions, dining and shopping.
Where to Play
The beach, of course! When the sunshine and ocean start to zap the energy, check out these three not-to-be missed attractions to entertain kids of all ages:
Alligator Adventure at Barefoot Landing: One of the largest exotic reptile parks in the world awaits visitors at Barefoot Landing's Alligator Adventure. Highlights include albino alligators, river otters, bears and Utan, the largest crocodile ever to come to the United States. For more information visit AlligatorAdventure.com or call (843) 361‐0789.
Ripley's Aquarium at Broadway at the Beach, Ripley's Believe It or Not Museum, Ripley's Haunted Adventure, Ripley's Marvelous Mirror Maze and Ripley's 4D Moving Theatre: From sharks, jellyfish, stingrays and exotic fish at the aquarium to more than 500 unusual and macabre exhibits and the museum, Ripley's is great, all day entertainment. For more information please visit Ripleys.com or call (800) 734‐8888.
Myrtle Waves Water Park: South Carolina's largest water park offers 20 acres of themed attractions and more than one million gallons of water. There is also a giant wave pool, lazy river and interactive Saturation Station, along with concessions, volleyball, group facilities, and more. For more information visit MyrtleWaves.com or call (843) 913‐9269.
If escaping for a day on the course is what you are looking for, the Myrtle Beach area is home to more than 100 golf courses. The majority of the Myrtle Beach area's golf courses are open to the public. Many host professional and amateur tournaments. Nearly one‐third of the Myrtle Beach area's golf courses are rated with four‐stars or higher in Golf Digest's "Places to Play" and seven courses are ranked among the "Top 100 Public Courses in America." For more information, visit GolfHoliday.com.
Lehigh Valley International Airport is conveniently located near Allentown, Bethlehem and Easton, Pennsylvania and is served by Air Canada, AirTran Airways*, Allegiant Air, Delta, Direct Air, Frontier Airlines, United and US Airways with 12 nonstop destinations with connections to the world. LVIA serves a twelve county area with a population base of 3.6 million people. The Airport is easily accessible from communities in eastern Pennsylvania and northwestern New Jersey areas. For more information on LVIA, visit http://www.flylvia.com.
*AirTran Airways is a wholly owned subsidiary of Southwest Airlines.
# # #